If devastating wildfires sweep across California again next year—not unlikely considering even Governor Jerry Brown has called it the "new normal"—the hardest hit may not be eligible for the same support as they are this year, thanks to the GOP's fast-moving tax bill.
As Congress pushes full steam ahead with its controversial plan to cut taxes (mostly for the wealthy and corporations), analysts are finally getting a chance to look at the impact such drastic measures would have on the majority of Americans. One major issue is how the plan would limit taxpayers' ability to write off damages from future disasters.

Right now, the House and Senate tax overhaul bills are undergoing reconciliation between both chambers' versions. As it stands, the bills would both terminate something known as the personal casualty loss deduction after this year, except for victims of Hurricanes Harvey, Irma, and Maria. The House bill entirely eliminates the deduction, while the Senate version allows people to use the deduction only if the president declares a natural disaster.

Per the Internal Revenue Service website, a deduction for a casualty loss "can result from the damage, destruction, or loss of your property from any sudden, unexpected, or unusual event such as a flood, hurricane, tornado, fire, earthquake, or volcanic eruption."
As the Los Angeles Times recently reported, only a small number of people impacted by this year's more than 58,000 wildfires (and counting) nationwide would qualify for the benefit, even under the Senate bill. This is not some minor earmark either: According to the IRS, in 2015, Americans deducted $1.6 billion for uninsured losses in natural disasters that were not declared federal disasters.
G/O Media may get a commission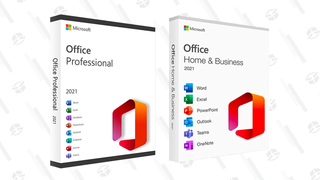 89% off
Microsoft Office Professional 2021 Lifetime License
"That means unless Congress decides to pass a tax exemption for each disaster, future victims will have to pay taxes on the personal costs of rebuilding or hope the incident is big enough to be declared a federal disaster," reported the Times.
The fact-checking website Snopes went through the trouble of looking into this claim, finding it "true" that the Tax Cuts and Jobs Act would eliminate or restrict tax deductions for uninsured personal losses in natural disasters.
"...Going forward victims of natural disasters would no longer have this tool—or at best would only have limited use of it—to help recoup casualty losses," states Snopes.
In statement regarding the potential loss of the deduction, California Senator Dianne Feinstein said that "it's appalling Republicans are taking money from any wildfire victims to pay for tax cuts for the rich. A family who loses everything in a wildfire shouldn't have to pray for a federal declaration so they can recover. Tax relief should be available to help all victims regardless of the type of natural disaster."
In early October, President Trump signed a bill extending a more generous personal casualty deduction loss to victims of Hurricanes Harvey, Irma, and Maria. While the Trump administration has said victims of California wildfires should get the same tax breaks, a bill in the House is yet to go anywhere even though it is supported by the entire 53-member California congressional delegation. The House tax bill also includes some limited deductions for victims of recent hurricanes, but not of big fires. This has led some to accuse Congress of treating fire victims differently than those of other natural disasters.
This year was already California's worst fire season on record before another spate of deadly fires broke out in the southern part of the state last week. These include the Thomas Fire, now the fifth largest in the state's history at more than 230,000 acres.
That's larger than New York City—all five boroughs. And it's only around 15 percent contained as of Monday morning.