Samsung Galaxy Note made a splash in Europe back in September of last year. Was it a gigantic phone or a tiny tablet? No one knew! Well, the debate is about to come to U.S. soil.
The phone (yes, it's a phone, but just barely) has a 5.3-inch screen. It is, indeed huge. For me, it was usable, but I've got ape-hands. It would make our Kyle Wagner, with his famously tiny hands, explode. I was able to type on it one-handed, but even for me the far side of the screen was a bit of a stretch. The screen is, however, very pretty with 1280x800 HD Super AMOLED resolution. Bright colors, inky blacks. Very nice.
The big, banner feature here is the S Pen, which is a stylus that fits very nicely into the bottom of the phone. It has something like 250-levels of pressure sensitivity. Samsung has baked in some proprietary software. From anywhere in the OS, you just press the pen's button, double-tap the screen and the S Memo note-taking application pops up. You can quickly scribble down your notes, take screen caps and annotate, type, do voicenotes, whatever. It has some handwriting recognition that translates it into typeface, but your results may vary. It had a lot of trouble decoding my writing, but I have, admittedly, the handwriting of a third-grader with a head-injury. Some people may love this. Not me. The whole stylus-on-glass thing just doesn't make any sense to me. I prefer keyboards. This is the best stylus I've seen, but I still think they're pointless and you'll probably never use it.
G/O Media may get a commission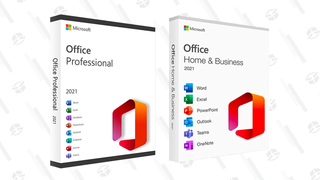 89% off
Microsoft Office Professional 2021 Lifetime License
I have to think there aren't that many people who are going to be into the size. While it was alright in my hand, I can't help but think that the pocket-bulge it would create would get you arrested on public transportation. The U.S. version is going to be nice and speedy on a number of fronts. It will be exclusive to AT&T, and yes it will be running on their super fast LTE 4G network, and it's packing a 1.5GHz dual-core processor. At launch it'll be running Android 2.3.6 (Gingerbread) with Samsung's TouchWiz UI, which I'm not a fan of. It will be upgraded to Ice Cream Sandwich someday, but who knows when someday will be. No word yet on pricing, but we know it's coming "soon". [AT&T CES Liveblog]