Fans of Matt Fraction and David Aja's Hawkeye series will be more than familiar with the long story of Hawkeye #22. The final issue of the run, which was first supposed to come out in February after a three-month delay on Hawkeye #21, has failed to materialise repeatedly. Until now. There's a preview and everything!
You know things have gotten hilariously out of hand when it comes to revealing your issue's preview via Entertainment Weekly, just to prove that it's actually happening this time (hopefully). But lo and behold, that's what has happened for Hawkeye #22, with confirmation that the issue is expected to land on July 15th. Here's a page, because honestly, you really need proof to believe this:
Isn't it cute that they actually think this is coming out? I know, right! Giving it a release date! But Marvel is serious this time, apparently more serious than the past three or four times they've given Hawkeye #22 a release date.
We may never know the real story behind what happened to Hawkeye #22 — a comic literally so late its titular hero gave up waiting for it to end and started a new series — but at last, the excellent, Eisner-award-winning adventures of Clint Barton, Kate Bishop, and Lucky the Pizza Dog are coming to and end, and we can't wait to see how it all pans out.
G/O Media may get a commission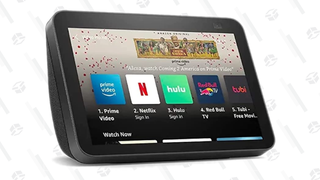 Hawkeye #22 is due for release on July 15th. Maybe. Fingers crossed?