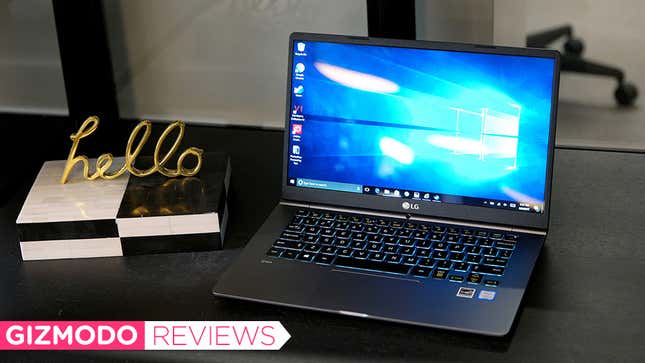 There's a never-ending list of things you can do on a laptop, but at their core, they are pretty simple devices. More often than not, it's feature bloat and things you never even wanted to use that cause a system to go haywire. Instead of gussying up systems with magical touchbars and ridiculous expandable screens, laptop makers should take a page from LG's playbook and keep things light and simple.
Meet Microsoft's New Surface Laptops
The LG Gram 14, like its featherweight siblings, is so airy it feels downright ethereal. Sometimes that leads to alarmingly flexible components such as a lid or keyboard deck quivering like a Jello Jiggler. But with a body made from a blend of carbon and magnesium, this baby's got it where it counts. The sides of the machine are reassuringly stiff, and when the system does bend, it always snaps back into place.
The upside to all that is that the Gram is fantastically light. Over the course of a week, I never thought twice about lugging it between my home and office—which isn't always the case when my bag is loaded up with a camera, external hard drives, multiple phones and a host of other detritus. In fact, despite offering a larger display, the 2.14-pound LG Gram 14 actually weighs less than most 13-inch systems, including the 2.7-pound XPS 13 and the 3-pound MacBook Pro 13.
When you talk about price, things get even better. Starting at $1,200, you get a 7th-gen Intel Core i5 CPU, 8GB of RAM, and a 512GB SSD. And if you want to upgrade to an Intel i7 chip, it'll cost just $100 more. Meanwhile, companies like Dell and Apple continue to nickel and dime you for storage. The similarly equipped XPS 13 costs $100 to $200 more depending on how much extra stuff they try to tack on, while the cheapest 13-inch MacBook Pro with a 512GB SSD costs a whopping $1,999.
For such a spartan system, the 14-inch Gram comes with a pretty substantial set of ports, too. Not only do you get both types of USB connections, you also get a full HDMI port and a microSD card reader. That means unless you absolutely need an Ethernet jack, you can actually live life dongle-free — something that can't be said of Apple's latest machines.
And even though the Gram comes with its own dedicated dedicated power jack and cord, you can ditch that too, because the USB-C port on the left can be used for both charging and data transfer. The one thing you don't get that would be nice on a laptop in this price range is support for Thunderbolt 3. But the ability to carry less cords without losing functionality is the kind of efficiency I can get behind.
The Gram's battery life is commendably good, too. Unless you are doing regular video editing or things of that nature, I found that it regularly outlasted a typical 9 to 5 workday. And on our battery rundown test, its time of 9 hours and 44 minutes was more than 3 hours better than the Razer Stealth (6:08), and on a par with last year's XPS 13 (9:47). That said, if you truly don't want to compromise on longevity, both the MacBook Pro 13 and Surface Laptop lasted two hours longer than the Gram 14.
Now before I get too slobbery, I can't go on without mentioning that the Gram's keyboard and touchpad are just OK. They'll certainly get the job done, and the addition of backlit keys is a nice improvement over LG's previous iterations, but neither feel especially crisp. The Gram's side-mounted stereo speakers aren't particularly impressive either, but you could say that about almost any super thin ultraportable.
Yet, by far, the most egregiously bad thing about the Gram is its built-in webcam. Apparently, LG couldn't even be bothered to offer something with a full HD resolution. All you get is 1280 pixels across by 720 pixels high, and the pictures it produces look like shots from a 10-year-old phone even in the best of conditions.
But wait, it gets worse, because LG mounted the damn thing in the middle of the laptop's hinge, instead of above the display where it should be. The result is that there's no balance between getting a good view of your screen and saving people on the other end of a video chat from having to look up your nostrils. Dell does the same thing on the XPS 13 and it's infuriating. This shit is not OK, and it almost makes me want to write off the whole system completely.
But that would be a bit too reactionary, because if you can get past that demerit or if you simply don't care about webcams, the LG Gram 14 is a refreshingly uncomplicated machine! It's not flashy and it's not without flaws, but damn it's nice when companies don't try to do too much. LG's Gram 14 has strong specs, solid battery life, and price tag that should make its competition feel bad, and while I know some people are going to sleep on a system that seems a little plain, they shouldn't. The LG Gram is great.
README
Super light and super simple design that borders on feeling cheap, but isn't.
The 1280 x 720 webcam is in an awful location and takes pretty grainy pics.
Costs $100 to $500 less than a similarly equipped XPS 13 or MacBook Pro 13.
Has a healthy amount of ports, including both types of USB and a microSD card reader.
Solid specs and battery life.
SPEC DUMP
14-inch 1920 x 1080 IPS LCD touch display • Intel Core i5 or i7-7500 CPU • 8GB of RAM • 512GB SSD • Integrated Intel HD Graphics 620 •Dual band 802.11ac Wi-Fi • Bluetooth 4.1 • 1 x Type-C USB 3.0 • 2 x Type-A USB 3.0 • HDMI • microSD • 3.5mm audio • 12.7 x 8.3 x 0.6 inches • 2.14 pounds • 1 year parts and labor warranty