After we saw the Lucifer pilot and realized it wasn't just another procedural-with-supernatural-elements show—but rather a campy, hilarious, procedural-with-supernatural-elements show, with a killer soundtrack—we were eager to speak to the show's creators and its charismatic star, Tom Ellis.
Here are highlights of what we learned at Lucifer's Comic-Con press event.
Joe Henderson (White Collar), showrunner-executive producer and self-described "comic book nerd," on how much Lucifer the show will resemble the comic book, a spin-off from Neil Gaiman's Sandman:
The comic is absolutely amazing, because it's grand worlds, huge ideas. We're trying to take the idea behind the idea, and ground it in our world. We're not going to have a lot of hugely supernatural elements in it. What we will have is grounded aspects of them. We'll have the spirit of them. There's this whole, wonderful idea in the first book of Lucifer, where Lucifer wants to get freedom from his father. In the comics it becomes this huge thing where he opens a portal to another dimension, and he becomes God. We're not going to be able to do that because our show is about a person learning about humanity on earth. But what we get into is to play with a guy that's exploring that idea: freedom. Freedom from your father, the freedom to screw up, the freedom to hook up with whoever you want to. The freedom to live. That great idea which worked so well in the books—we love that idea. We're just going to do it our way.
Executive producer Jonathan Littman on whether or not he thinks Satan is having a "moment," considering Lucifer and Damien are both coming to the airwaves—and also what makes Lucifer unique:
I think people are fascinated by the idea of evil. I think what makes Lucifer stand out is it's taken the idea of the Devil and turned it [on] its head. It doesn't play it seriously. He's not trying to hide it, he's just telling people, "I'm the Devil." Very matter-of-fact: "Believe me, or don't." I think that's a first for the genre.
G/O Media may get a commission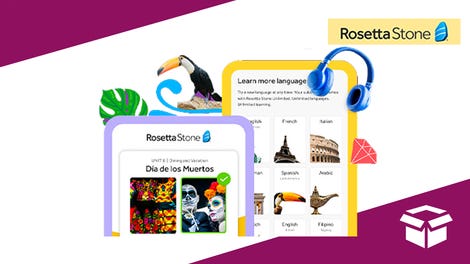 Extra 20% off
Rosetta Stone Lifetime Subscription - All Languages
Executive producer Ildy Modrovich on Lucifer's appeal:
There have been a lot of shows out there like Constantine that have dealt more with the mythology and the fire and brimstone, demons and monsters. We're trying to examine Lucifer as a human, but the biggest, baddest human of all time, trying to figure out if he's got some good in him.

If there were a theme to the whole show, it would be "truth." He's about embracing your dark side. We hide it, we're embarassed by it, but he's about what you desire. Let's not pretend. It's worse to lie. So he never lies. It's wish fulfilling, in that he says things that we all want to say. That's probably the most appealing thing to me about him, besides the fact that he's hot.
Star Tom Ellis, on playing the Prince of Darkness:
He's a guy who's used to thinking that he knows everything, and everything is do-able and everything's possible. What he hasn't counted on is the osmosis of becoming human, and developing things like feelings and emotions. We find a guy that everyone thinks they know who's on the path to redemption, [which is something] that nobody ever thought would happen. And his sense of fun is the thing that sort of drives him forward in life.

It was quite worrying when I got the job, when I was telling several friends of mine about it, and they were like, "Oh, you're perfect [to play the Devil]!" I was like, "What? What do you mean?" [Laughs uproariously.] I enjoy playing characters that are kind of dicks, but somehow you still love them. It's always fun to do that as an actor, and people love an anti-hero.
Lucifer is scheduled to premiere next year.
Top image: Fox.