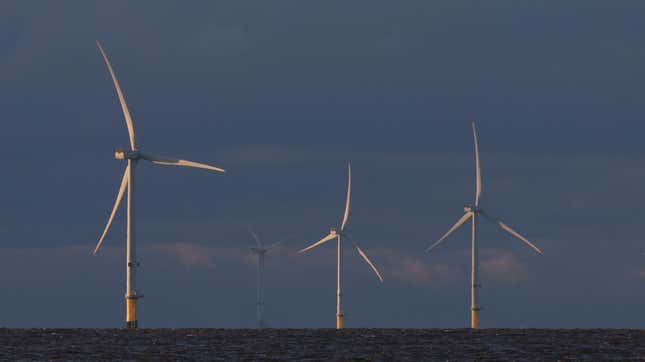 Pentagon pushback could imperil national plans for a sustainably powered future. Maps from the Department of Defense show that the U.S. military has serious concerns about planned offshore wind development, according to a Monday report from Bloomberg.

Apple's Vision Pro Seems Powerful, But Who Is It For? | Future Tech
Across vast expanses of ocean off the mid-Atlantic, the Pentagon has apparently indicated it would prefer there to not be wind turbines. In an annotated graphic shown in the Bloomberg report, four big sections of water off the coasts of Maryland, Delaware, Virginia, and North Carolina—earmarked for potential wind farms—are labeled as "highly problematic" by the DoD. Two additional areas are highlighted in yellow, indicating that military officials believe more study is needed to parse out suitability. The outlet noted that its reporters viewed multiple such maps, which were shared by the Pentagon with energy industry stakeholders and lawmakers and likely published in an offshore wind mission compatibility assessment on October 27, 2022.
The DoD's opposition to the possible wind tracts has put a damper on developer interest, Bloomberg reports. And it's not the first time that military input has held up offshore renewable energy plans. In this instance, though, Pentagon interference could derail one of the few demonstrably good presidential climate policies.
From the perspective of environmental advocates, Joe Biden has made some seriously disappointing calls on energy and climate change. But the president's widely celebrated offshore wind plans have stood out as an exception. By 2030, the Biden Administration wants to have 30 gigawatts of offshore wind energy, as announced in March 2021. That's more than 700 times what the U.S.'s seven offshore turbines currently produce. 30 gigawatts of wind energy would be enough to power over 10 million U.S. homes for a full year. It may not be much compared to the relative scale of Europe's efforts, but it's still big.
Yet Pentagon concerns could make meeting that 30 gigawatt goal more difficult. The military's opposition seems to come down to proposed wind farm proximity to its Dare County bomb testing range, Yorktown Naval Weapons Station, Oceana Naval Air Station, and Norfolk Naval Shipyard, according to the map. "The initial assessment performed by DoD found compatibility challenges with wind turbines near Navy and Air Force training," department spokesperson Kelly Flynn said in an emailed statement to Gizmodo. More than a quarter of the total potential offshore lease area included in the graphic looks to be impacted.
"This assessment is the first step in the process and DoD will continue to refine the analysis and collaborate with the other stakeholders in order to promote compatible development in this location," Flynn said.
DoD worries about energy and defense conflicts halted offshore oil drilling development plans off the coast of Virginia all the way back in 2010. More recently, Pentagon concerns caused years-long delays for offshore wind leasing off of California. Prior to this military assessment, the Department of Interior was on track to auction offshore wind rights in the mid-Atlantic at the beginning of 2024, reported Bloomberg. Now, those plans are less sure. "[The Bureau of Ocean Energy Management] is currently analyzing DoD's assessment and will take it into consideration when identifying final Wind Energy Areas," BOEM spokesperson Lissa Eng told Gizmodo in an emailed statement.
Yet still, Eng seemed confident that BOEM can achieve the 30 gigawatt goal. "BOEM has a long working relationship with DoD, and together we have successfully deconflicted and identified areas that have resulted in 27 leases, covering over 2.1 million [ocean] acres." Her statement noted that currently under review and approved offshore wind projects plus remaining lease areas in the Atlantic could support an estimated 39 megawatts of power capacity. "This does not include additional capacity that will result from the five pending leases sold in the California lease sale and additional leases that may be issued in the Gulf of Mexico, Central Atlantic, offshore Oregon, and in the Gulf of Maine," she added.
But for specific states, the Pentagon opposition seems guaranteed to cause problems. Maryland legislators passed a bill setting a goal of 8.5 gigawatts of offshore wind just last week. Less than half of that could be achievable following the military's prohibitions, per Bloomberg.