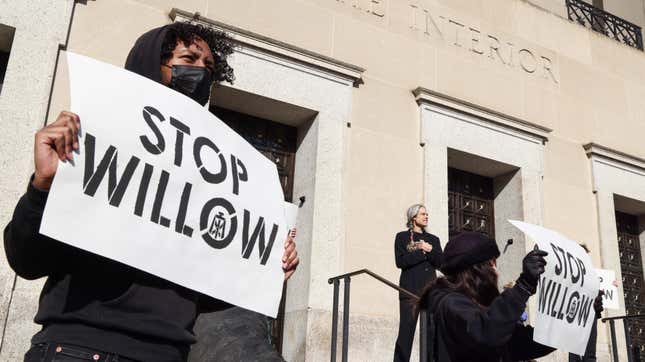 The Biden administration on Monday gave the green light to an enormous oil and gas project in Alaska, following months of increasing opposition from environmental activists who say that the approval runs counter to the administration's promise to act on climate.

Biggest Questions After Watching the Original Willow
The Interior Department released a record of decision Monday approving the Willow Project, an $8 billion oil and gas drilling project owned by oil giant ConocoPhillips. At its peak, it is expected to produce 180,000 barrels of oil per day—about 1.6% of the U.S.'s current oil production. Over the 30-year lifespan of the project, Willow could produce as much greenhouse gas emissions as 2 million gas-powered cars.

On Sunday, in advance of the decision, President Joe Biden announced various new protections against oil and gas drilling in parts of the Arctic Ocean and in parts of Alaska's National Petroleum Reserve, where the Willow project is located. The move is largely seen as an appeal to activists opposed to the Willow approval.
"While we recognize the nuanced economic challenges of the region, local community leaders have spoken out against Willow, saying that new extraction will cause more harm than good," Emily Sullivan, Arctic Program Manager at the Northern Alaska Environmental Center, said in a statement. "Willow will have far-reaching climate impacts, locking the U.S. into fossil fuel production for decades to come. We need immediate policy change to ensure that future generations can thrive, with access to traditional food and culture."

The Willow project was originally approved by the Trump administration in 2020, but in 2021 a federal judge threw out the approval, saying that the administration had not sufficiently evaluated the climate or ecological impacts of the project. The Biden administration Interior Department's approval on Monday follows on the heels of an environmental impact statement issued last month from the Bureau of Land Management, which attempted to address some of the issues raised by the judge. In that statement, the BLM approved three drilling pads for the project—less than the five ConocoPhillips originally proposed but more than the two pads the Biden administration was initially pushing for, until it was convinced by supporters of the project that two drilling pads wouldn't be economically feasible.
The approval comes in the wake of intense lobbying for Willow from Alaskan representatives in Congress as well as some Native groups, who say that the project will bring much-needed revenue into the area. Conversely, there has also been an upswing in recent weeks of activism against the Willow approval driven by social media, including a Change.org petition with more than 3 million signatures.
Native groups living near the project have also been vocal about the impact Willow would have on their way of life and local ecosystems. A letter from local Native leaders, addressed to the Interior Department earlier this month, read: "Oil development paid for our utilities, our schools, and so many other advancements we have benefitted from. But providing these services is the responsibility of our governments, not private corporations. And we have a right to these services whether we agree to hosting an industrial wasteland in our backyard or not."