Welcome back to Toy Aisle, io9's weekly roundup of the fanciest toys around. This week we're already hiding our wallets from amazing SDCC exclusives, plus Hot Toys teases its next Wonder Woman figure, Thor: Ragnarok comes to Lego, and a Transformer turns into a giant medieval dragon. No, really!
---
Hot Toys Wonder Woman in Training Armor
Hot Toys' first crack at a Wonder Woman figure, its Batman v Superman version, didn't quite nail its likeness of actress Gal Gadot. But now that the character has finally gotten her own film that critics seem to be adoring, Hot Toys' follow-up finally does Gadot justice. The 12-inch figure features Wonder Woman in her training armor, not her more recognizable outfit, and as with all of Hot Toys offerings, it comes with countless accessories like weapons and swappable hands.
When available sometime in early 2018, Wonder Woman will set you back a few hundred bucks, but with 17 points of articulation and the fact that it basically looks like a miniature Diana of Themiscyra on your desk, you'll still feel like you're getting your money's worth. [Hot Toys]
G/O Media may get a commission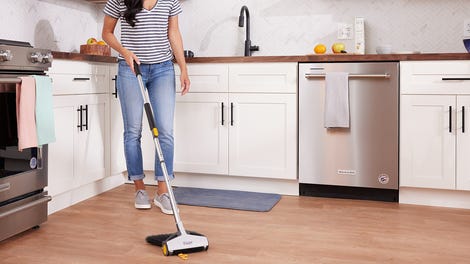 BOGO 50% Off
Flippr - BOGO 50% Off
---
Lego Thor: Ragnarok Sets
Summer's almost here, which means it's time for Marvel and Disney to flood theaters and toy stores with movies and collectibles you can pretend you're not going to buy this time. Except... Lego is introducing two new sets tied to Thor: Ragnarok featuring a bunch of minifigures you'll want to add to your collections.
The Ultimate Battle for Asgard, available August 1 for $50, comes with six minifigures including Thor, Bruce Banner, Valkyrie, Hela, and the Commodore spaceship. But the $60 Thor vs. Hulk: Arena Clash set, also available August 1, includes a gladiator Hulk figure that few Lego or Marvel fans will be able to resist.
---
Transformers: The Last Knight Premier Edition Deluxe Figures
Hasbro just revealed a handful of new figures for the upcoming Transformers: The Last Knight that shed a little more light on the film's plot and characters, but raise a few other questions. The $20 figures, available closer to the film's release, include a dragon named Skullitron, a new version of Megatron who turns into a stealth bomber, a Lamborghini Centenario version of Hot Rod, and Anthony Hopkins' characters' butler Cogman, who can apparently transform into a full-size Aston Martin. Do the laws of physics not exist on Cybertron?
---
NECA's San Diego Comic-Con Exclusive Teenage Mutant Ninja Turtles Box Set
The 2017 San Diego Comic-Con is still over a month away, but show exclusives are already being revealed, starting with this Teenage Mutant Ninja Turtles boxed set from NECA that's based on the animated series. On one side of the set you'll find the four turtles, a small armory of weapons, swappable posed hands, and a pizza. On the other is Shredder, Krang, and a couple of foot soldiers, all wrapped in a collector's case. It'll sell for $200 (oof!) but will also be available to those of us not lucky enough to make it to SDCC on NECA's wesbite. [The Fwoosh via Twitter]
---
Bandai Cars 3 Lightning McQueen
Sphero considerably raised the bar for Cars toys with its remote control Ultimate Lightning McQueen. Bandai's new 1-18th scale Lightning McQueen doesn't move on its own like Sphero's does, but it makes up for it with incredible detailing underneath the car and under the hood. Made of die-cast metal, it also comes with swappable face and eye expressions, articulated wheels allowing McQueen to be posed, a mirrored display stand, and a $225 pre-order price tag. [Lunar Toy Store via Toy People News]
---
Thor Mjolnir Ceramic Sculpted Mug
Are you worthy of sipping from this Mjolnir-shaped ceramic mug? Before Thor starts slamming down ale, he surely starts his mornings with a piping hot cup of Joe from this $20 mug. It could be the perfect addition to your morning routine, assuming you're actually able to lift it. But even if you're not worthy, you can always just reach for a straw. [Entertainment Earth via GeekAlerts]