When televisions were still a luxury, high-tech item, designers wanted to make them look as crazily futuristic and beautiful as possible. Here are some of the most bizarre and breathtaking television sets that ever existed.
Kuba Komet (1957-1962, Wolfenbuttel, West Germany)
The sailboat-like ultra-heavy (it was 289 lb. or 130 kg) home entertainment system of its time had a 23" black and white television, eight speakers, a Telefunken phonographs and a multi-band radio receiver. The Komet cost more than a year's average wage.
G/O Media may get a commission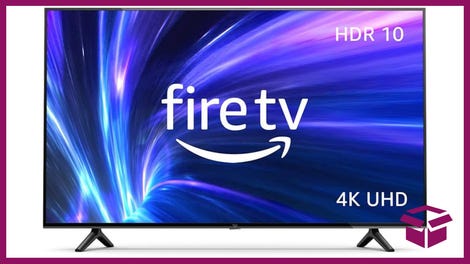 42% Off
Amazon Fire TV 50" 4K Smart TV
(via Radiomuseum and Bayern-Online)
Semivisor, by René Barthélémy, 1929, France
(via Wired)
Baird Televisor, the first British commercially sold televison set, between 1930 and 1933
A neon tube and a Nipkow (mechanically spinning) disk with a spiral of apertures produced a small image, which was enlarged to 200% with a magnifying glass.
(via Education Scotland and Paul Pert)
Marconiphone Television 702 with a 12-inch screen from 1937, by the British Marconi
One surviving set was sold at an auction two years ago for $27500.
(via Dailypicksandflicks)

A Baird Lyric with a 12-inch screen, 1946
(via Bonhams)
The Sonora Sphinx from France, 1949
The cabinet is made of painted aluminum and it was available with a screen magnifier (its lens has yellowed with age and looks like amber now).
(via TVHistory)
Tele-Tone TV-209 (1949)
With a 10-inch round screen.
(via Early Television)
A Teleavia Panoramic III, designed by Philippe Charbonneaux, 1957
(via Liveauctioneers)
The 21-inch Philco Tandem Predicta with a 25 ft. cord between the screen and the cabinet, 1958
(via Google Books/Popular Science August 1958 and Burlingame Radio & TV)
Philco Safari, the first transistor portable television, 1959
The 15 pound (6.8 kg) set had a 2 inch display and worked with a 7.5V rechargeable battery.
(via Visions4)
Panasonic/National Flying Saucer (but also known as The Eyeball, originally TR-005 Orbitel), produced by Panasonic in the late 1960s and early 1970s
(via Mundo Retro 60 & 70/Carlos)
The Keracolor Sphere, designed by Arthur Bracegirdle, 1968-1977
This English set, an icon of the Space Age, was really expensive because of its small size. It was available in various colors.
Bracegirdle and Colin Chapman's Lotus Cars made a deal so three Lotues Europas were used for promotional purposes around England.
(via Spaceage70s and Timeboxvintage)
The JVC Videosphere, introduced in 1970, and produced to the early 1980s
Inspired by Kubrick's 2001: A Space Odyssey, and appeared in the Conquest of The Planet of the Apes (1972) and in The Matrix (1999).
The alarm clock base was an option (Model 3241).
(via D-Konstruct, Archinfo and Antiqueradio)
Sinclair Microvision TV (Model MTV-1), 1977
The first ever miniature television with its 2 inch screen wasn't a real sales success: it was really expensive, priced like the average models.
Seiko T 001 TV Watch, 1982
(via Visions4)
Casio TV-70, the portable TV from the early 1980s with "Solar Projection System", 1986
Behind the cool name it was just a mirror that reflects the picture from the LCD screen. The only 13 mm thin TV worked with 3 AAA-size batteries and had a 2-inch black and white screen.
(via Frank's Handheld-TV Pages and Visions4)