Tesla CEO Elon Musk appears to be in deep shit with the SEC over his ill-advised decision to ever, ever tweet. Specifically, he tweeted that he'd secured funding to take Tesla private when, the SEC alleges, that wasn't accurate at all. Now, he's being sued by the SEC on charges that he misled investors and the case filing is... unique.
On August 7, Musk tweeted that he was "considering taking Tesla private at $420." Since then, he's explained that he had a meeting with a sovereign investment firm from Saudi Arabia that left him with the impression that the money was secured. He's claimed that he believed he just had to get the process started. Tesla's stock price went wild after the tweet was published and the SEC began to look into whether he had violated any regulations. According to the Washington Post, he's also under investigation by the Justice Department for any potential criminal violations.
Since then, he's been accused of tweeting on LSD, sued for defamation by a cave diver he called "pedo guy," given a "weepy" interview to the New York Times, and admitted that this whole going private thing just isn't going to work out.
Among other things, the SEC wants Musk to pay civil penalties and be
"prohibited from acting as an officer or director of any issuer that has a class of securities registered pursuant to Section 12 of the Exchange Act." Reading the full complaint is a great way to see the timeline of what exactly happened and what the players at Tesla allegedly told investigators behind the scenes. It also outlines the many, many ways that Musk is accused of breaking protocol for this kind of announcement by just firing out a tweet.
Though the SEC has charged at least one man with securities fraud for manipulating stock prices with tweets, this is a very unique filing. Below you'll find a few TLDR passages that the SEC's copywriter has almost certainly never typed before.
G/O Media may get a commission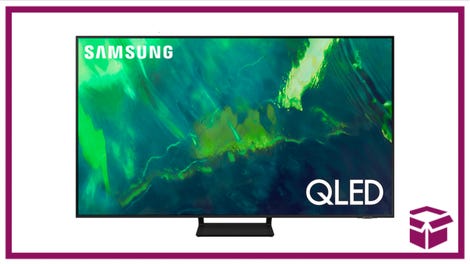 35% off
Samsung Q70A QLED 4K TV
Save big with this Samsung sale
If you're ready to drop some cash on a TV, now's a great time to do it. You can score the 75-inch Samsung Q70A QLED 4K TV for a whopping $800 off. That knocks the price down to $1,500 from $2,300, which is 35% off. This is a lot of TV for the money, and it also happens to be one of the best 4K TVs you can buy right now, according to Gizmodo.
When you want to make your pop star girlfriend laugh:
According to Musk, he calculated the $420 price per share based on a 20% premium over that day's closing share price because he thought 20% was a "standard premium" in going-private transactions. This calculation resulted in a price of $419, and Musk stated that he rounded the price up to $420 because he had recently learned about the number's significance in marijuana culture and thought his girlfriend "would find it funny, which admittedly is not a great reason to pick a price."
When your top advisors have no idea what you're serious about anymore:
"Investors, stock analysts, and journalists immediately sought clarification of Musk's August 7 statements. At 1:00 PM EDT, approximately 12 minutes after Musk published his tweet stating, 'Am considering taking Tesla private at $420. Funding secured,' Tesla's own head of Investor Relations sent a text to Musk's chief of staff asking, 'Was this text legit?'"
When your investors just can't understand what the hell you're saying:
"At approximately 1:13 PM EDT, a Tesla investor and friend of Musk's chief of staff texted the chief of staff, 'What's Elon's tweet about? Can't make any sense of it. Would be incredibly disappointing for shareholders that have stuck it out for so long.'"
When you're a billionaire surrounded by some of the finest legal minds in the world and a reporter has to tell you this doesn't seem like a good move.
"At approximately 2:23 PM EDT, another reporter sent Musk an email with the subject, 'Are you just messing around?' and wrote, 'Reaching out to see what's going on with your tweets about taking the company private? Is this just a 420 joke gone awry? Are you serious? It seems like you are dancing into some pretty tricky legal territory by messing about with the markets this way. Is there an actual explanation coming?'"
When your CFO is sure you've thought this through:
"At approximately 1:23 PM EDT, about 35 minutes after Musk's initial tweet about taking Tesla private, Tesla's Chief Financial Officer sent a text message to Musk, 'Elon, am sure you have thought about a broader communication on your rationale and structure to employees and potential investors. Would it help if [Tesla's head of communications], [Tesla'sGeneral Counsel], and I draft a blog post or employee email for you?' Musk responded, 'Yeah, that would be great.'"
When you're on a roll:
Musk did not make any attempt to clarify his August 7 statements until August 13. During the interim, Musk continued to publish statements via his Twitter account, including an apparent joke on August 10 about "Short shorts coming soon to Tesla merch[andise]."
We're just gonna say it one more time: Never tweet.
[SEC]