Secrets revealed! Everyone takes a moment to look back and remember the origins of the Moon Kingdom this week, and hug it out. I hope you like infodumps, because Sailor Moon Crystal just hit the motherlode.
Our episode begins with a quick reminder of last time's cliffhanger (maybe you wouldn't need to do this if you were on every week SMC, goddammit) - Tuxedo Mask jumping in the way of Kunzite's attack to protect Usagi. Yay, Heroism! Boo, he's dying. Mamoru's near death state awakens some of his memories, as SMC goes Battlestar Galactica and reminds us that everything that has happened before will happen again - he remembers that his name is really Endymion, and that he's died protecting Princess Serenity before, and even pegs it that Sailor Moon is really Serenity before giving out.
Usagi is obviously not best pleased at this, and in her grief goes Super-Moon-Saiyan, transforming into Princess Serenity, much to the surprise of the rest of the Sailor Senshi (except Minako, who kinda gets to just play along despite already knowing she was the Sabé to Serenity's Padmé). She cries so hard she recreates the Legendary Silver Crystal! Everyone is blinded by the light of the Crystal, to the point that even Beryl shows up in person to try and nab it, but the Senshi intervene, blocking her attack while the Crystal's light heals Mamoru...
G/O Media may get a commission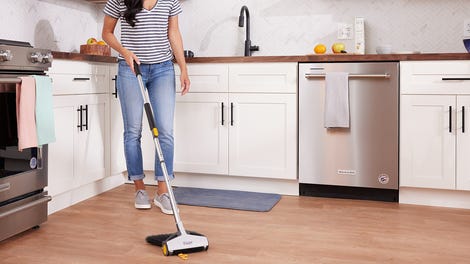 BOGO 50% Off
Flippr - BOGO 50% Off
But Kunzite nabs him! Somehow. I know the girls were busy fending off Beryl, but I'm not entirely sure how no one noticed Kunzite nipping in right in front of them and snatching Mamoru. Beryl and Kunzite retreat with Mamoru in tow, and Usagi promptly loses her shit. It's not been a good episode for the poor girl so far.
The gang reconvenes at Luna's Arcade Base for yet another plot dump - as if Mamoru and Usagi's discovery of their past as Endymion and Serenity wasn't enough the first time round, here's Artemis with an explainer for the Senshi and us at home (again). Long ago the Earth was a singular Kingdom, as was the Moon, and they lived in relative harmony while Prince Endymion and Princess Serenity got their Romeo and Juliet on. The dark Kingdom's forces possessed the citizens of Earth however, and used them to attack the moon - an attack which saw Endymion cut down by his allies and the Moon Kingdom sacked. The plot dump however does nothing to lift Usagi out of her sadness though, who even declares that she doesn't want to be a Princess, she just wants to be a normal teenager in love. It's kind of amazing that SMC managed to portray Usagi this episode not really as a spoiled brat - it would've been far too easy to do that - but as a character genuinely racked with grief, and her heartbroken confession that the Princess life isn't all that she dreamt it would be is genuinely touching.
Meanwhile in Dark Kingdom A&E, Beryl and Kunzite are watching over Mamoru's body, having searched him for the Legendary Silver Crystal. Beryl demands that he be kept alive until they find it, and Kunzite agrees - before he's joined by the rest of the Shittenou, who apparently find Mamoru familiar. It looks like SMC's change to keep all four Shittenou alive is finally starting to come together, and they're doing some interesting things with it (even if it's taken them so long), especially with Kunzite hiding the fact that he recognises Endymion from the rest of them. Dun dun dunnnn!
Back on earth, Usagi is still shaken up by Mamoru's capture, waking up from horrifying dreams of his death and crying herself back to sleep. Everyone's bummed out, even Luna - but the Senshi decide to go and visit Usagi in an attempt to cheer her up. It's kind of brushed over when they show up at Usagi's house, but what the hell does Usagi's mom think's happened to her daughter? I mean, she's evidently been locked in her room for a few days at least, suffering from some sort of quasi-PSTD. She seems oddly okay, but no matter - the girls enter her room to find Usagi, errr... glowing?
Okay, that's weird. And can obviously only be solved one way - girls night in hairdressing time! It turns out that since her transformation into Serenity, Usagi's hair has kept growing out to ridiculous lengths (and also GLOWING, but no one seems to comment on that), so the Senshi help her cut it and groom it back into her usual style. The Senshi use the time to also remind Usagi that they're there for her, how they want her to be happy again as well as reminding her that she doesn't have to be Princess Serenity: She has to be herself. One thing SMC has been really good at is reminding us that Usagi's key strength might not be leadership or fighting ability, but her ability to cheer up those around her and the strength of the bonds between her and her friends. The girls hug it out, and it is once again quite a sweet moment - Sailor Moon Crystal hasn't been afraid to be a bit emotionally cloying so far with its melodrama, but Usagi's arc and resolve to be more than just a retread of Princess Serenity's tragedy over the course of the episode is a huge character moment, and really well done.
So naturally, Luna interrupts it by blurting out that they should all go to the Moon. Bu-whaaa?
I love Artemis' face here. He's just like 'GOD LUNA YOU CAN'T JUST TELL SOMEONE TO GO TO THE MOON'.
Well, it makes sense - the Senshi know who they are, Usagi knows she's Serenity, and they know that the Dark Kingdom is on the Moon - if the girls want answers and to save Mamoru, they need to head to the place where it all started. And the Senshi, now united more than they ever have been, agree.
Next time: THEY TOTALLY GO TO THE MOON. When a Cat tells you to go to the moon, you damn well do it. We might have had a bit of a pause this week to dump all the backstory out, but considering how well they handled Usagi's character development here I'm willing to give SMC a bit of a free pass - it was well worth the plot dumps to get the team where they are now. To the moon!
---
You're reading Toybox, io9's new blog for all things pop culture. From merchandise to awesome fan creations, TV recaps and critical commentary on the hot topics of the day, you can find it all here!