We wrote about the Movpak back in May 2014 when the backpack/electric skateboard first launched as a Kickstarter project, sadly the project didn't quite make enough to be funded. Now the company has added even more features ahead of a second attempt at funding via Indiegogo. The new design is sort of like having a car you wear on your back...that also requires some fantastic balance.

Its coolest new elements: the bag comes with a wireless phone charger, as well as built-in speakers (for jamming on the road) that will connect to your phone via the Movpak app. It also has a microphone so you can ask Siri or Google Now for directions while you're actually riding it so you can operate completely hands free.
The bag is a generous size, will be sold with changeable cover options, and detaches from the board if you don't need to bring your wheels with you. It even has a luggage handle if you'd rather roll it than wear it. But its real selling point is obviously the electronic skateboard that pops out of its base; it can reach top speeds of 20 mph. It can go about 10 miles each time it's fully charged.

I got a chance to ride a Movpak last week in San Francisco. It's operated using a small remote that fits comfortably inside your hand, and the bag offers something to brace your leg on if you're a balance-challenged klutz like me. I had never ridden a skateboard before and I definitely felt like I was going to eat sidewalk once the thing started going (it has two motors inside the wheels—so it is definitely powerful); it would take me some practice before I'd feel confident zooming among rush hour traffic in downtown SF. BUT I was definitely the weird one out at the demonstration—everyone else I saw trying it out looked decidedly more confident once they started wheeling around.
G/O Media may get a commission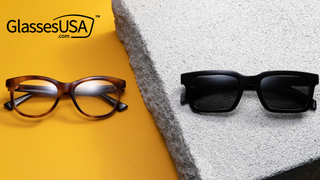 60% off frames
GlassesUSA.com Back to School Sales
Movpak's 2014 Kickstarter campaign did not hit its fundraising goal—donors were refunded, and no Movpaks were shipped at that time. But it seems Movpak has learned a lot in the last two years, and all the improvements made to the latest model have lent new confidence for a fresh crowdfunding push that will hopefully be much more successful.
Movpak will be offered at $599 for "early bird" donors to its final-push Indiegogo campaign (launching today); they'll be able to get their boards once the campaign ends. After that, it will be for sale on the Movpak website. At least if everything goes according to plan, which it should. Because this thing is a lot of fun.