The world's seven seas may be wildly unpredictable, but if you ever find yourself itching to play Poseidon, you might want to consider enlisting. Because at the Naval Surface Warfare Center just outside Washington, D.C., the Navy gets to control every inch of its very own indoor ocean.
And now, thanks to 216 newly acquired electronic waveboards, this mini-ocean is the most high-tech wave-testing basing the world has to offer. As Smithsonian Mag explains:
Scaled-down fiberglass models, cruisers the size of canoes, ride waves that max out at a few feet high. But it's the motion of the ocean that matters. The hinged wave boards, each with its own motor synced up to software, can precisely recreate eight ocean conditions (from flat calm to typhoonlike) across all seven seas, pushing the water and moving up and down like giant piano keys whose scales and chords are waves.
The Navy needs the football field-sized storm center to test its ship models before it actually builds them—which can end up costing billions of dollars. This way, it knows whether sailors will be able to perform their duties in a variety of conditions as well as how vessels handle themselves. And the old wave-modeling system just couldn't cut it:
A relic from the 1960s, the old pneumatic-powered wave system couldn't replicate complicated open-ocean conditions, which are driven by local winds and far-off hurricanes. The testing team sometimes had to take remote-control models to the actual ocean, scouring weather reports for the perfect chop. Other seafarers have mistaken the models for "Cuban drug-smuggling submarines," says test director Calvin Krishen. "We hear about it in the bars afterward.
G/O Media may get a commission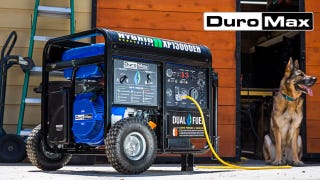 Black Friday Sale
DuroMax Generator Sale
With the new system in place, the Navy can cover all the necessary simulations in six weeks when it would previously have taken months to finish. Which is enough to make even Prospero jealous. [Smithsonian Mag]