Scientists recently discovered a new type of botulinum toxin (a.k.a. botox) that they believe is the deadliest substance known to man. Because they've yet to discover an antitoxin, researchers won't publish the details of gene sequence due to security concerns—a first for the scientific community. Thank God.
When scientists say this stuff is deadly, they mean it. It takes an injection of just 2 billionths of a gram or inhaling 13 billionths of a gram to kill an adult. A spoonful of the stuff in a city's water supply could be catastrophic. The toxin, which comes from the bacterium Clostridium botulinum, blocks the chemical that makes nerves work, causing botulism and death by paralysis. In a comment accompanying a newly published journal article on the new botox, Stanford Medical School professor David Relman said the substance posed "an immediate and unusually serious risk to society."
You'd be right to wonder: If this stuff is so dangerous, why do we have it in the first place? Well, it's not manmade if that's what you're thinking. Before this new discovery, there were seven known branches on the botulinum family tree, but researchers recently found an eighth type of toxin in stool samples of an infant with botulism. It just so turns out that eighth type, known as type H, is the deadliest substance in the world. Scientists are withholding the genetic sequence so that terrorists, for instance, can't synthesize it and do something terrible. Terrorists do like botox, too. It was one of these toxins that the Japanese cult Aum Shinrikyo tried to release in downtown Tokyo in the 1990s.
Despite the somewhat sensational nature of this latest discovery, everything is okay for now. This is, however, a rude reminder of how scientific discoveries can always be twisted into weapons of warfare. Unless we keep them secret, that is. [New Scientist]
G/O Media may get a commission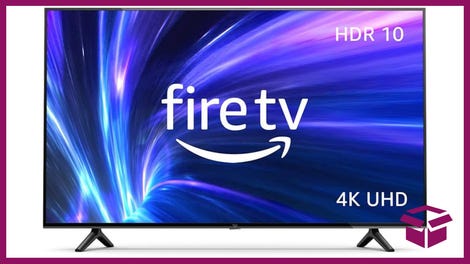 42% Off
Amazon Fire TV 50" 4K Smart TV
Image via Shutterstock / Jezper