Starting today, you can buy a gold iPod Touch. It's actually not as lame as it sounds. Beneath its golden shell, the iPod is starting to look a little bit like the low-cost phones that so many of its competitors are working on, too.
It would be very easy—and more than a little bit true—to call today's introduction of a gold iPod Touch boring; in some ways it's the perfect example of how Apple's design has stagnated over the past few years. To be sure, the gold thing is part of Apple's quest to appeal to new markets, including China where gold is a popular color amongst users, as Bloomberg reported last year. By now, there aren't many Apple products you can't get in gold, and sometimes it feels a bit like a ploy to distract consumers from the fact that Apple hasn't made a drastic or exciting design update in quite some time.
Yet, as both Wired's Brian Barrett and Daring Fireball's John Gruber have pointed out today, the internal updates to the iPod are actually pretty damn great—Apple has, essentially, made the iPod into an iPhone that doesn't have cellular data. For example, it has the M8 coprocessor that makes your iPhone capable to supporting ambient activity metrics. It has an A8 chip for faster processing. There's a new camera, too, which makes the iPod a solid alternative for people who don't have a dedicated smartphone but want the ability to take photos, use the web, and maybe make some wifi calls. As Matt Buchanan wrote on Gizmodo in 2010, a camera makes the iPod Touch nearly as useful as the iPhone, "but without the technological venereal disease that is a two-year AT&T contract."
Apple must still see potential in the iPod. As it expands into markets where cellular service might not be as common, it's not beyond the realm of possibility that the company is picturing the iPod as its low-cost iPhone alternative.
Apple should pay attention to those cheaper markets, especially considering Microsoft and Google already are and have been for awhile. Both Android and Microsoft (RIP) are pushing plenty of super low-cost models, and at I/O this year, Google mentioned (once again) its mission to bring internet to "the next billion users," especially in areas that might not have cellular or data connections. To do it, the company is building products like a version of Maps that is completely viewable offline, even when searching for locations, as well as offline functions for YouTube. Google's also starting up Fi, an alternative to traditional cell service that uses wifi and piggybacking from LTE networks to offer low-cost service. Facebook is doing the same thing—finding its "next billion users" opening new offices in Africa and launching its own efforts to stream internet from drones.
G/O Media may get a commission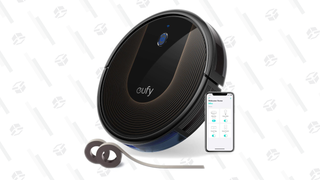 48% Off
Eufy BoostIQ RoboVac
Apple may see the iPod as hardware it can sell to those next billion people. It's experimented with a lower-cost iPhone before, but the 5c ultimately a failure, with less power, fewer features than the iPhone, and a price tag that was not nearly cheap enough to justify it. But the iPod could be that second chance in disguise: All the internal power and external design details of an iPhone, without the costly data plan or cellular connection.
Of course, we've got a long way to go before Apple starts marketing the iPod as an alternative to the iPhone (if it ever does so overtly). Today's largely under-the-radar announcement proves that the company certainly isn't too interested in bringing much attention to it. But it does mean the sixth generation iPod touch will be able to handle Apple's next few OS updates, and a lot could change between now and then. Giving it a smarter brain and a better camera could be an experiment to gauge how much of a market there is for an wifi-iPhone.
For now, the guts of that idea are definitely there, lurking in the iPhone's shadow.
---
Contact the author at kelsey@Gizmodo.com.