Last year, HTC gambled on funneling its resources into a single flagship smartphone. That bet paid off in the form of the One, the first truly beautiful Android device. Its successor—the new HTC One—builds on that existing framework. It's all grown up, in all the right ways.
The Look
We say grown up both because the 2014 One has more mature features and, well, is literally bigger. HTC has joined in on the ever-creeping size of Android phones, with a new a five-inch 1080p screen, a slight jump from last year's 4.7-inch device.
It's also cloaked in an impressively sleek metal unibody backing, with an edge-to-edge screen. You can get it in three colors: metal grey, gold, and silver. The grey (pictured here from our brief hands-on time) definitely gives the One a more high-end feel, and in spite of its bigger screen it doesn't exactly feel unwieldy thanks to that same slimness.
G/O Media may get a commission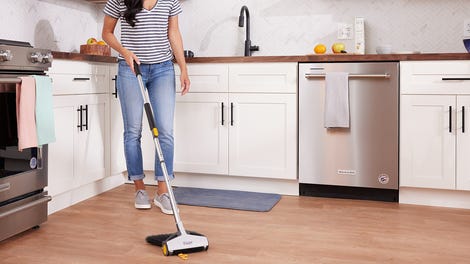 BOGO 50% Off
Flippr - BOGO 50% Off
For the record, an all-metal phone is generally not the kind of thing that plays nice with good reception, but HTC says the One has been designed with several antennae sliced in, so the design shouldn't sacrifice signal strength. This held up in a demo, sure, but we'll see how that works in our own testing.
The Camera
Beyond design, next most notable improvement comes from the camera. The new shooter is called the HTC Duo camera, and it ditches the optical image stabilization of last year's model in favor of an automatic, software-based stabilization. Translation: it makes your images less shaky, without downgrading quality (if it works as advertised).
Otherwise, HTC is sticking with its 4MP camera (same as last year), and the front-facer is 5MP for some high-quality seflies. Don't be turned off by that low-sounding spec on the rear lens; HTC's UltraPixels are designed to capture more light, and they more than hold their own.
HTC has also made the camera software interface much simpler, much cleaner, and much better overall. Flat buttons to capture video or photo or access other settings sit in the corners of the screen. You can still tap once to take a picture, or hold down the camera button to activate burst mode. You can also refocus an image after you've taken it by tapping different areas on the picture. Other Android devices offer these features as well; HTC has just made them easier to actually find.
The Software
All of which provides a nice way of segueing to the phone's operating system, Android 4.4 with HTC's Sense 6.0 skin gently draped on top, which is so simple and clean that it makes Samsung's aggressive TouchWiz UI feel like a war zone. Sense 6.0 is as clean as Samsung's interface is messy, and it hews close enough to stock Android that in our brief hands-on time, it never felt like it was getting in the way. Blinkfeed gets its own pane, while the rest acts as your standard Android desktop.
Operating all of that has gotten a lot easier, too, thanks to a new suite of gestures. They're called Motion Launch, and they seem to be more than just the usual gimmickry. For example, you can knock twice to wake the phone up—a feature promised but not consistently delivered on by the newest batches of LG phones, but that worked just find in our demo. Beyond that, when the phone is asleep, you can swipe left to go home, or swipe right to go to BlinkFeed. Or you can swipe up from the bottom to return to the last app you were in, swipe down to make a call, or (and this is the only kinda awkward one) you can tilt the phone sideways and hit the volume button to start the camera. These kinds of augmentations are generally filed under "great in theory but too bad they don't actually work," but at least in our run-through, they seemed to actually deliver.
The Specs
The battery also has been boosted to 2,600 mAh. Now, that might not sound like much in a world of phones boasting batteries just south of 4,000 mAh, but HTC says the One has some power-saving features that will give you plenty of juice. On normal settings, you should get about a day on a single charge. But if you get to 10 percent and below with no plug in sight, you can put it in power save mode and squeeze out some extra standby time. And in this mode, you can still make and receive calls, pull emails manually, and send a text if you need to.
Other than that, the device has a better chip: the Qualcomm Snapdragon 801 quad-core CPU, 16GB or 32GB flavors, 2GB of RAM, and a microSD slot for expanded storage. The HTC One also has NFC support, Bluetooth 4.0, is DLNA-compatible, and has support for infrared remotes.
The device is available today on most carriers. We'll withhold final judgment until we've had a chance to get a full review, but the HTC One is a stunning phone with the specs and features to match, a worthy predecessor to one of the few truly breakout smartphones of the last few years.