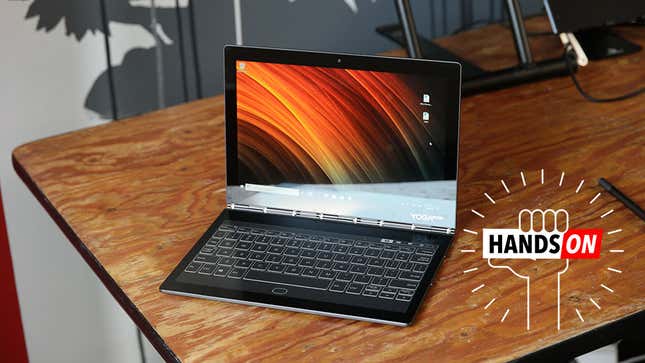 You wanted to love the original Lenovo Yoga Book. It had a pretty display, and its keyboard doubled as a pad for pen input, which besides just being neat also allowed it to be one of the thinnest laptops available at .38 inches. Plus, it cost just $500. But the original Yoga Book was profoundly flawed and not a good buy for anyone beyond gadget nerds with extra cash. The new .39-inch Yoga Book C930, with a second e-ink display, is so outrageously neat that you could find yourself rooting for it despite its higher $1,000 price tag.
Twitter Is Shifting Right | Future Tech
There is a wide range of excellent laptops for $1,000. Laptops that are more powerful and can do a lot more than this little guy. But it's been a while since I've seen a device as festooned with neat quirks as the Lenovo Yoga Book C930.
Like how you open the Yoga Book. The original was super thin, but kind of a hassle to open because it was so thin. You always had to use two hands—a bummer if you had it on your desk and were trying to use it as a laptop. The new Yoga Book has a knock knock feature. Just knock twice on the top and it pops open.
Once you open the device you're presented with a very attractive 10.8-inch screen that Lenovo bills as a retina display due to its resolution of 2560 x 1600. Its a good looking display and exactly the kind of quality you'd expect from a $1,000 device.
The touchscreen keyboard, on the other hand, defies expectations of $1,000 laptops, especially ones from Lenovo. Lenovo usually has really, really good keyboards on its laptops. The kind that give you a visceral feeling of pleasure as you type. But the new Yoga Book, as with the old one, expects you to type on a completely flat surface, this time a 10.8-inch 1080p e-ink screen.
It's not a real keyboard, and I'll be curious to see what typing on it for more than a quick session is like, but in my brief time with the unit, I found myself reminded of the iPad's built-in keyboard—only with way less screen space taken up by the keys. It could end up being seriously uncomfortable for long typing sessions, but was fine in this quick demo.
Lenovo claims that because it is e-ink, it will also be easier to customize the keyboard. On the current model that customization is limited to changing the language on the keyboard, but enterprising people could theoretically do their own customizations if they so chose.
When the keyboard isn't in keyboard mode it can be used as a pad for drawing with the included Wacom pen. In the demonstration we saw. it worked with the Microsoft OneNote app so you can doodle notes on the e-ink display and watch them pop up on the more colorful display above. But it should work with additional apps at launch, and if you prefer writing instead of typing notes, you can make use of the 360-degree hinge and just use the e-ink display as a note pad, with notes directly stored in OneNote.
If jotting down notes with a keyboard or pen isn't appealing there's the third use of the e-ink display and one we're all familiar with—reading.
It actually works as a second display for consuming PDFs and ebooks. With the fat bezels and its light weight, it isn't a terrible e-reader—think a larger version of the Kindle DX. Again, I don't know how often I'd flip it around to read a book or mark up a PDF, but I'll admit that I absolutely love the option of having an e-ink display on a Windows 10 laptop.
Though a possibly underpowered one. The Yoga Book C930 will ship with 7th-gen Y-series processors and max out at 256GB. Those are far better guts than the original Yoga Book with its much slower Atom processor, but this will not be a productivity machine unless you're trying to record all your notes via the e-ink display or penning emails. Instead, with the dual displays, LTE support, and a claimed 10 hours of battery life, the new Yoga Book seems primed to be the most luxurious consumer of content around. Think a really gadgety iPad that runs Windows 10 instead of iOS.
The Lenovo Yoga Book C930 is expected to ship in October of this year and start at $1,000—which is a lot until you consider a 10.5-inch iPad Pro with Pencil and keyboard case costs nearly the same. If the iPad no longer inspires your super expensive gadget lust, this could be at the top of your wishlist.