The dragon has to be furry. That was the first thing director David Lowery thought when he decided he wanted to remake Pete's Dragon. The second thing was that he did not want to just remake Pete's Dragon. He wanted to take the story and bring it to a new generation. He'll get his shot on August 12.
It wasn't an opportunity the director, who previously did the violent indie Ain't Them Bodies Saints, could have predicted. "It wasn't until we finished a first draft that I realized this isn't just a movie I'm writing for Disney, this is a movie that's mine and I want to make," Lowery said. "All of a sudden I realized, on a personal level, the scope of movies I can make and still call my own is much wider than I thought. I always looked at my previous films as fairy tales. This is a more literal one but it's in the same zone thematically and tonally."
Narratively, the original Pete's Dragon is a musical about a boy named Pete and his dragon named Elliott. However, that 1977 but has a more period setting, odd plot strands, and a distinct setting. This movie has the same basic structure, but is quite different.
"Prior to reading the script I heard this was not a straight up remake and that was the 'yes' for me," said the film's star, Bryce Dallas Howard. "I love Pete's Dragon and in loving it I didn't want it to just be a copycat thing. I felt that this story, and the themes within the original film, was the charm in it."
G/O Media may get a commission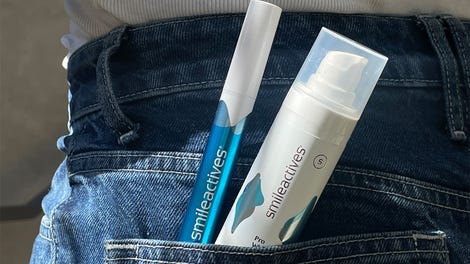 58% off
Whitening Powerhouse Pen & Gel Duo
Howard plays Grace, a forest ranger who one day finds a boy named Pete (Oakes Fegley) in the woods. He's been there for years accompanied by a dragon named Elliott. They're soon joined by Grace's father, played by timeless legend Robert Redford. Redford's presence is serendipitous because an actor like helps Lowery achieve the timeless feeling he felt the film needed.
"When you have a movie that has a fantastical concept in it you're going to accept it more easily if it has the veil of time hanging over it," Lowrey said. "By setting something in the past, you're just a little more accepting of the idea that there's magic there."
"I also find the movies I return to and love the most don't feel dated," Lowrey continued. "I wanted this film to feel like that. I didn't want it to feel contemporary. [For example] if someone pulls out an iPhone, all of a sudden you go 'Oh that's an iPhone 4 this must have been made in 2010.' Then you put that up against a dragon and there's a disparity that doesn't quite work. So by setting it in the past and not making a big deal of it you make everything congeal under this cohesive whole that doesn't have a specific date on it, but feels yesterday."
In his mind, Pete's Dragon is sort of set in the late '70s or early '80s, and it's kind of happening in the Pacific Northwest, though it was totally shot in New Zealand. That timeless feel and came through in four new clips that were shown at a recent event in Los Angeles.
First was a simple scene of Robert Redford's character telling some local kids an old legend about seeing a dragon in the woods. He's then interrupted by his daughter, who assures them he's lying. Next we saw Pete and Elliot frolicking in the woods. They're running, they're jumping, they're obviously best friends. The scene felt very much like a live action version of the scene in The Good Dinosaur where Arlo and Spot run through the birds and stuff. Third was a scene after Pete has returned to civilization and brings everyone back to meet Elliott in the woods. The humans are, obviously, quite scared but Elliott surprises them by being so friendly. And last, we saw a scene where Karl Urban's villain character has captured Elliott so it's up to Pete, his friend Natalie (Oona Laurence) and Redford to kidnap him back. It results in a very rural chase scene between a big rig, with Elliott on the back, against a slew of trucks.
In these scenes, Lowery's tone of family-friendly, nostalgic adventure shined through.
"We really wanted to sell the idea of friendship between a child and a creature like that," Lowery said. "That's what it comes down to, like your favorite pet as a child or a relationship you have with a dog. That really close bond you can have with an animal. We really wanted to hit the heart of that but with a creature that's 20 times the size."
And though this film shares a theme of friendship with the original film, this movie will not be filled with winks and nods to that film. Lowery wanted to make this version of Pete's Dragon its own entity in every way possible. Which brings us back around to why Elliot the dragon is furry.
"I said look, if you put a Game of Thrones dragon in this he's going to be scaly, he's going to be cold and he'll be cool but I want this to be a dragon you really want to give a hug to and snuggle up with," Lowery explained. "That's because I love my cats and I was probably petting my cat being like 'I wish this guy was 20 feet tall.'"