The best days of science fiction and fantasy books aren't in the past — they're still arriving. Every month, new books come out that pack a hell of a whallop. Just check out our list of the 23 new books that you absolutely must not miss in May.
The editor behind the amazing Eclipse anthologies is back with another collection of ground-breaking short stories, by such authors as Alastair Reynolds,Greg Egan,Ian McDonald, Ken Macleod, Pat Cadigan, Karl Schroeder, Hannu Rajaniemi, Karen Lord, Adam Roberts, Kathleen Ann Goonan, Aliette de Bodard and Peter Watts.
G/O Media may get a commission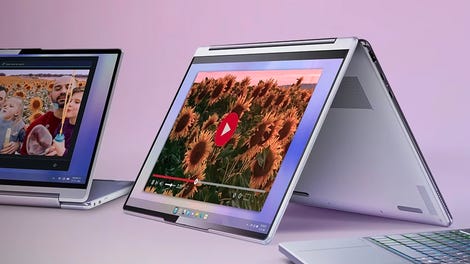 up to 70% off
Lenovo Spring Clearance
It's 2015, and an old woman remembers two different pasts: one in which a bomb killed President Kennedy, and one in which Kennedy never died. Which past is real, and which of the families that keeps visiting her is just her imagination?
It's a heist novel! Now that Harry is Winter Knight to the Queen of Air and Darkness, he's having to do all kinds of unsavory things. Like help a scumbag steal from the highest security vault in the Nevernever.
This thriller is already getting rave reviews — four commuter planes crash on the same day, and three children are the only survivors. And then an evangelical minister insists those three kids are the harbingers of the apocalypse... could he be right?
The author of Soft Apocalypse and Love Minus Eighty is back with a novel set in a future where we created supersoldiers, called Defenders, to fight an alien invasion. And now they're coming home and they want a G.I. Bill. This book has already been optioned for film by Warner Bros.
The second book in VanderMeer's Southern Reach Trilogy, and this time around the agency that explored the mysterious Area X is in disarray. Control takes over an organization in shambles — and discovers some terrifying secrets in the ruins.
The first book of a new series! It's an alternate world where the industrial revolution is powered by magic, and an archeology student unearths a sentient book called Vella. And elsewhere, a girl has been taught that using magic is wrong — but she has amazing gifts.
Three women, Nan, Mavis and Ruthie, meet in a special garden. They share a secret that could destroy Nan's daughter Bay. But their meeting had consequences they couldn't have imagined.
This debut novel got an enthusiastic blurb from Neil Gaiman, so heads up. It's the future and the balance of global power has shifted East. A girl named Meera is forced to flee when she finds snakebites on her chest and realizes people are after her. She's heading for Ethiopia, her birthplace, where she'll meet another fleeing girl whose fate is tied to hers.
The sequel to Cornell's urban fantasy novel London Falling, featuring doughty London cops who deal with supernatural threats without losing their professional edge. This time around, they're facing Jack the Ripper!
The pleasure planet Artemis, created with unimaginably advanced technology, was lost after a galactic war — but now an archeologist may have found a clue to its location, which could in turn provide humanity with the advanced super-science of our ancestors.
Once, there were hundreds of members of the Oversight, protecting the border between the mundane and magic worlds — but now they're just a few people. Until a young girl shows up, who could be a new recruit... or their downfall.
Here's another debut novel that sounds fascinating. It's a genderpocalypse, but not the same as Y: The Last Man. This time around, a synthetic hormone in food killed 50 million women of childbearing age, leaving only young girls and old women (and men) alive. Now, Avie grows up without a mom, in a world where men are determined to "protect" her — including telling her who to marry and what to do without her life.
"The Boost" is an upgrade to humanity's brains, which gives our biggest cognitive improvement since we crawled out of the oceans. Yay! Unfortunately, when the U.S. has a "national upgrade" of our Boosts, our privacy settings are changed from U.S. settings to Chinese settings — in other words, zero privacy. Oops. An engineer who notices this is marked for death.
I think this book was originally supposed to come out in 2008, but it's definitely worth the wait. This is a 500,000 word collection of the best space opera tales, from authors like Alastair Reynolds, Kage Baker, Lavie Tidhar, Aliette de Bodard, Naomi Novik and James Patrick Kelly.
The acclaimed author of The Cellist of Sarajevo tells a story of an obscure magician whose life is tied up with Harry Houdini's in a surprising way. And it's told from the point of view of the man whose punch to the stomach killed Houdini.
Flora 717 is just a lowly drone in a hive where only the queen is allowed to breed. At first, Flora's high intelligence is seen as an asset, until she dares to question the queen's exclusive fertility.
Kyra Agnew was missing for five years, but to her it was just a blink of an eye. She's still just 16 years old, but everybody in her life is older. And others have vanished, without ever returning at all. Why did she come back? And is she really still Kyra Agnew?
The conclusion of the Owner trilogy, in which Saul and Galahad clash, while one man holds the hope of bringing greenery back to a dying Earth.
The human race was almost wiped out by a deadly Syndrome — but we created genetically engineered people, called Gems, to save us. Now a corporation believes it owns those Gems, but they want to be free. And they're using social media to try and win over ordinary humans.
The English-language debut of an award-winning Taiwanese author, this book takes place in the future, when a mountain of trash in the Pacific ocean touches the lives of a few people in surprising ways.
In a change of pace from her many ongoing series, McGuire looks at the legend of the hitchhiking ghost who was murdered by a devil worshipper, and who just wants to win her freedom.
The former Ain'tItCoolNews writer and screenwriter (Sinister) is back with the sequel to Dreams and Shadows, in which he digs deeper into the theme of the cost of exploring magic. This time around, saving Austin from the fairies has meant the wizard Colby is no longer quite so much of a secret, and now everybody wants Colby's help. Or payback.