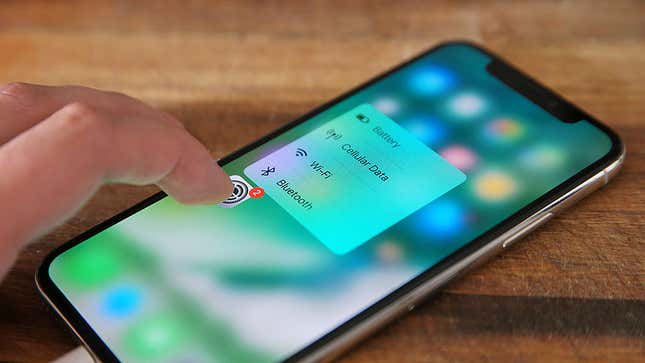 In advance of the next batch of iPhones, noted Apple analyst Ming-Chi Kuo has already shed some light on the three new iPhone models he expects to see this fall. But recently, new details have emerged from Kuo on Chinese website Feng about the upcoming 6.1-inch iPhone, and its apparent lack of 3D Touch.
Vizio's Latest TVs Go All Quantum
According to Kuo, the upcoming 6.1-inch device—which reportedly features an LCD screen instead of OLED and will be the cheapest the three—uses a Cover Glass Sensor located on the surface of the handset's screen, instead of having touch sensors built into the display itself like Apple has done on previous iPhones. The benefit of this construction is that it could make the iPhone's screen stronger and more resistant to cracking, which, based on the number of Apple handsets I see sporting ugly glass spiderwebs, would be a much needed improvement.
The downside to this construction though is that according to Kuo, this new technique for providing touch sensitivity, which includes a new thin-film sensor, will increase the total cost of the screen and display from $23 to $26. So in an effort to balance out the higher price of components, Kuo says Apple may ditch 3D Touch on the upcoming 6.1-inch iPhone.
Presumably, Apple could simply use similar screens to those featured in the iPhone 8 while eliminating 3D Touch and reduce costs even more. However, it seems that option isn't on the table, and with rumors that Apple is trying to keep the price of the new 6.1-inch iPhone between $700 and $800, killing 3D Touch may be how Apple plans to hit that target.
And it seems axing 3D Touch on this model may be just the start, as Kuo suggests that starting in 2019, 3D Touch functionality could be stripped from all iPhone models. In an informal poll of Gizmodo staffers, most iPhone users said they wouldn't care if 3D Touch disappeared, with multiple people remarking that the last time they even used the feature was purely by accident. However, a small number of 3D Touch loyalists swear by the feature, citing how useful it is especially when using the keyboard in iOS, which can be pressed to call up a cursor for easier text editing.
When Apple first introduced 3D Touch on the iPhone 6S, the feature was largely used to surface new contextual menus by pressing down hard on an app icon or menu. However, in the time since, Apple hasn't really done much to expand 3D Touch's functionality or add it to other areas of iOS.
For people who aren't quite ready to give 3D Touch up, Kuo claims that while the least expensive 6.1-inch iPhone won't have it, the more premium 5.8-inch and 6.5-inch successors to the iPhone X should keep the feature alive for at least one more year.
So I guess the real question is, would you sacrifice 3D Touch in exchange for a cheaper, more durable iPhone? Or is 3D Touch something you wouldn't even miss if and when it's gone?