Did Nicolas Cage really predict the future in his schlocktastic thriller Knowing? That seems to be what tech startup Global Findability is hinting, in their infringement lawsuit against the film. Apparently Cage's method of locating future disasters is already patented.
In a bizarre lawsuit filing, Global Findability says it's already patented something called "Integrated Information Processing System For Geospatial Media." And the lawsuit claims that Knowing includes (and therefore sells) "geospatial object entity code", or "geocode" for short. In other words — those GPS coordinates for future disasters, embedded in the 1950s scrap of paper? It's a real thing. Explains Global Findability:
Upon information and belief, defendants Summit and Escape, LLC, have made, used, offered to sell, and/or sold, and continues to make use, offer to sell, and/or sell, the Film, within this Judicial District, including, without limitation, the Geocode® product that infringes Global Findability's Patents.
Actually, judging from the patent itself, they've just patented a method of scheduling filming of particular events by location and time, and embedding location and time data in the recording afterwards. But it's kind of a confusing patent, to be honest.
Apparently Global Findability is not a totally fly-by-night operation, filing frivolous patents and lawsuits for fun. According to the Hollywood Reporter, its board includes tech mover-and-shaker Peter Morville, and it's represented by attorney Federick Samuels, who used to work for the Trademark And Patent Office.
G/O Media may get a commission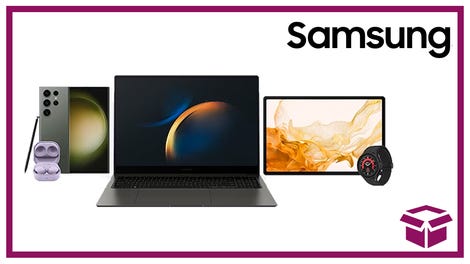 24 hour deals
Discover Samsung - Daily Deal
So does this mean that Global Findability knows where the next deadly hurricane or plane crash will hit? And they're holding out on us? [Lawsuit Filing via THREsq]