Poor Jason David Frank. There is maybe no other person on this Earth—except maybe Haim Saban—who is as passionate about Power Rangers as the man behind Tommy Oliver himself. Turns out, Frank is so proud of the series and his role in it, it got him into a tussle with security officers during the new movie's premiere.
The reason for the scuffle is definitely a weird one: security escorted Frank out of the theater thinking he was attempting to pirate the film. In actuality? Frank wanted to record the crowd's reaction when his cameo with original Pink Ranger Amy Jo Johnson in the film's climax first appeared, according to a new interview with THR:
I'm the guy in the movie theater who wanted to get a reaction shot of the audience reacting to Amy and me when our cameo appeared. Right after our cameo appeared, I got escorted out by security because I had a camera in the movie. I didn't see the end of the movie, because security was arguing with me outside and I was trying to tell security, 'That's me in the movie!' And they said, 'I need your phone!' I'm like, 'You're not getting my phone!'
Frank and Johnson are both glimpsed in the film as prominently-shown Angel Grove civilians in a crowd shot during the aftermath of the final battle between the Megazord and Goldar. Ironically, Frank's unnamed civilian is even seen raising his phone to take a picture of the giant robot towering over the town. But because of the misunderstanding, Frank missed out on getting to hear the reaction for himself... and perhaps more importantly, missed the post-credits scene which teased the arrival of the rebooted series' take on his own character, Tommy Oliver:
I didn't get to see the end of the movie when they called Tommy. I was so upset.
G/O Media may get a commission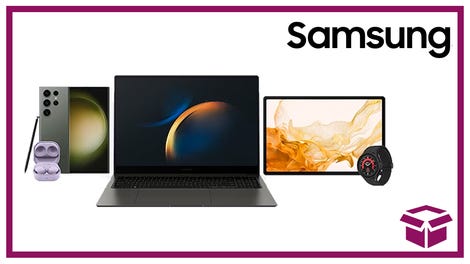 24 hour deals
Discover Samsung - Daily Deal
Oh dear. Well, maybe Frank will have to go and see the whole thing again just to witness it... but then again, he's Jason David Frank. Of course that's something he's gonna do when it comes to a Power Rangers movie.
[THR]