With all the cool events going on at Gizmodo Gallery this year, we wanted to make sure your had a place to plop your butt down and rest your barking dogs. Enter the Polymorphic Bench.
The Polymorphic Bench is the creation of a group of architecture students at Columbia University, and they've been toiling for weeks to build us a new version of the bench specially for Gizmodo Gallery.
Given the Polymorphic Bench's irregular, organic shape it looks more like an artistic representation of a heaving beast than a piece of furniture. As the team describes it, the bench is a kinetic piece of furniture which responds to the physical pressure of the bodies that sit, stand, and walk on it. It's like a cross between a slinky and a see-saw—that you sit in. The original bench was made of 119 unique pivoting sections, which are interconnected so that when weight is placed on one section, the sections all respond to the pressure, causing the shape of the entire bench to transform into a sea of ripples.
G/O Media may get a commission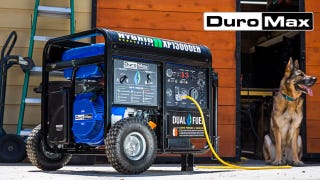 Black Friday Sale
DuroMax Generator Sale
As soon as we learned about the Polymorphic Bench we were dying to try it out for ourselves. Unfortunately, the original bench was long gone from the face of the planet by the time we got in touch with the team to see if we could bring it to Gizmodo Gallery. But then we collectively had an epiphany: what if the team built us a new, bigger, and improved bench, using the exhibition as an opportunity to revamp the previous design and tailor it specially for our space in White Box gallery. They agreed, and the Polymorphic Bench 2.0 got underway.
We just heard from the team, and they've just finished cutting all of the individual sections of wood for the bench. Now all that's left is the day-long process of actually assembling the bench right before the gallery opens. We're honored that they were kind enough to put in long hours to bring this amazing project to Gizmodo Gallery, and we can't wait to see it in person.
Gizmodo Gallery 2011 @ White Box
329 Broome Street. New York, NY, 10002
Monday, December 5th
Press Day, Press Only
Inquiries to media@gizmodo.com
Tuesday, December 6th
12noon – 5pm
All Day Special Event: World's Largest Multi-Touch LCD
Party: Opening Party Invite Only 7pm - 10pm
Wednesday, December 7th
12noon – 8pm
Special Events (secret!)
Party: Gizmodo Reader Meetup and Nerf Party 9pm - 11pm
Thursday December 8th
12noon – 8pm
Special Event at 6pm: Home Theater How-To and Demo Session
Party: Kotaku Reader Meedup with 3D Gaming
Friday, December 9th
12noon – 8pm
All Day Special Event: MarkerBot Demos
Special Event at 6pm: Artist Talk - Micah Ganske's MakerBot Experience
Saturday December 10th
11am - 8pm
All Day Special Event: Free Pictures with Lego Santa Yoda
Sunday December 11th
11am - 6pm
All Day Special Event: Free Pictures with Lego Santa Yoda
Read more about the Gizmodo Gallery here and follow @gizgallery on Twitter. Special thanks to Land Rover - without them, there would be no Gizmodo Gallery.