In 2012, science fiction and fantasy accounted for the biggest box office hits, as well as the largest flops. The year's breakout hits on television were genre fare. The publishing landscape was transformed, and science fiction and fantasy drove the earth movers. Stories of the fantastic have never wielded so much power over mainstream culture, and there are a handful of people who did more to make it happen than anybody else.
Here's our list of 22 people who pushed science fiction and fantasy into the mainstream in 2012. Last year's list included no repeats from previous years — but this year, we decided it was important to acknowledge some of the people we'd mentioned in our first four Power Lists. So here they are, this year's Power 20, in no particular order:
1. Joss Whedon
Let's just get the most obvious candidate out of the way right off the bat. Two of our favorite movies had his name on them, although that was just because Cabin in the Woods was locked in a vault for ages. But also, The Avengers is this year's Avatar, except that you're allowed to like Avengers. And with Whedon's five-year deal with Marvel and his S.H.I.E.L.D. TV show, he's just become like the Hulk of superhero culture.
G/O Media may get a commission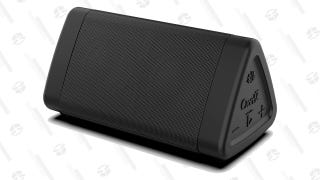 Save 31%
Oontz Angle 3 Portable Bluetooth Speaker
2. Robert Iger and Alan Horn, Disney
These two guys basically now control everything you love. From Marvel to Lucasfilm to Pixar to Disney Animation, they have a tight grip on all of your fondest dreams. And at least thus far, they seem to have been making wise choices. Horn only came over to Disney from Warner Bros. last spring, in the wake of Disney's John Carter disaster, and he appears to have been instrumental in the Lucasfilm deal. Horn, who shepherded the Batman and Harry Potter franchises, says Disney "takes seriously" the responsibility to make a good Star Wars movie. Lightsabers crossed.
3. John Sargent, Macmillan
The president of Macmillan, whose publishing companies include Tor Books, has led the charge this year on e-books. He's fought a Department of Justice lawsuit alleging that publishers colluded to fix e-book pricing, when most other publishers settled. And meanwhile, Tor's e-books went DRM-free, meaning you could copy them onto all your devices — or lend them to your friends the same way you would any print book that you owned legally. With the future of traditional publishers up in the air, Sargent has been an important force for publishers remaining independent of Amazon.
4. The Nolan Brothers
Obviously, Christopher Nolan had a huge year this year — The Dark Knight Rises was the other superhero movie to crack the $1 billion mark at the box office. And it was a satisfying conclusion to a movie trilogy that wrapped up the story's main themes, something that almost never happens. But also, Christopher Nolan's name is the main reason we're cautiously excited about next year's Man of Steel. Meanwhile, his brother Jonathan not only contributed to TDKR, he also continued to steer Person of Interest, his runaway hit TV show — which is probably the most popular show about artificial intelligence ever made.
5. Stephen Colbert
The host of the Colbert Report isn't just a political icon and great satirist. He also continues to make nerdiness mainstream, especially with things like his recent Hobbit week. He rode our collective wave of Hobbit excitement, and has grown more and more as a Geek Power Lord.
6. Daniel H. Wilson
He's not just a besetselling author, he's becoming a Hollywood powerhouse. His Robopocalypse movie is apparently still in the pipeline with Spielberg directing. And his second novel, Amped, is also being turned into a movie. But meanwhile, he's also been hired to write the screenplay for the remake of the 1980s robotsploitation classic Cherry 2000.
7. Michael Arndt
The Oscar-winning screenwriter of Toy Story 3 is poised to have a very good couple of years. He wrote the screenplay for Oblivion, Tom Cruise's next big science fiction movie, plus Catching Fire, the sequel to Hunger Games. And he's been tapped to write Star Wars: Episode VII, plus an unnamed Pixar film. Basically, he's come out of nowhere to become one of the most important screenwriters in genre film.
8. Jennifer Lawrence
Between Katniss and Mystique, this actor has become one of the most important young actors in Hollywood. She pretty much single-handedly rescued Hunger Games from feeling like an overblown production full of shaky-cam and big set pieces. And she's one of the X-Men's MVPs, who's probably going to play a major role in the upcoming Days of Future Past. And you only have to watch her geeking out over her action figure to know that she's going to bring that same intensity to more genre roles in the future.
9. Joseph Gordon-Levitt
JGL had another pretty amazing year, between the third Batman film and Looper. We may never see him in the Batsuit — but the fact that so many people want to is a testament to just how much he managed to thrill audiences in his supporting role. And he was a huge factor in making the cerebral, challenging Looper a big hit. But meanwhile, his Hitrecord company is a fantastic experiment, producing short films, books, music and poetry. There's a lot more to Gordon-Levitt than just being a possible future alternate Batman.
10. Mark Pedowitz, The CW
Arrow is one of the fall's big breakout hits — and between that and the resurgence of Supernatural on the same night, The CW is suddenly our go-to place for comic book and supernatural adventure. (And angst.) Sure, Beauty and the Beast is looking like this year's Secret Circle. But Vampire Diaries is still going strong, and Nikita is still rocking everyone's world. And if the Wonder Woman show Amazon can live up to Arrow's example, then The CW will be an unstoppable source of escapist candy. A big change for a network whose brand was more Gossip Girl-oriented not long ago.
11. The Mars Rover Curiosity Team
They were all over this year, especially Mohawk Guy. Not only did the Rover itself capture the world's imaginations with its exploration of our closest planetary neighbor, but the people who put the robot on Mars were also our new heroic icons, proving that science fiction really could come true. Bobak Ferdowsi and Adam Steltzner both became rockstars in 2012, and two worlds will never be the same.
12. Michael Rowley, Del Rey/Ebury (Random House UK)
With all the consolidation and shutdowns happening in publication these days, the launch of a new science fiction imprint is not to be sneezed at — and Rowley made huge waves by launching a new SF imprint of Ebury in the U.K. Called Del Rey, after Random House's powerhouse SF imprint in the United States. And Rowley just announced his first acquisitions, including Mark Hodder, a new steampunk trilogy, and Django Wexler's Penitent Damned series. Rowley says upcoming trends in SF publishing include more anti-heroes in fantasy and science fiction that's "darker and more visceral." We can't wait.
13. Benedict Cumberbatch
If one person can be said to have become a SF icon this year, it's Cumberbatch, who already had a legion of passionate fans from his starring role in Sherlock. He's portraying two vital characters in The Hobbit, including the dragon Smaug. He's playing the mysterious villain of Star Trek Into Darkness, and his performance in the first two trailers has already chilled our bones. He's become one of the most indispensible actors in genre films and television. Now when can we get him on Doctor Who?
14. Neil deGrasse Tyson
We included Tyson on last year's Power List — but he's continued to be highly visible and omnipresent, speaking out in favor of science funding and against rampant ignorance. And he's still signed up to host a new version of Carl Sagan's Cosmos. Plus this year, he published Space Chronicles — and he was chosen by DC Comics to be the astronomer who helps Superman find the location of his home planet Krypton. When we think of people who put geek culture into the mainstream, Tyson automatically comes to mind.
15. Leigh Bardugo
This debut young adult novelist had one of the year's big breakout hits, with Shadow and Bone, about an orphan who has the ability to harness a rare magic. But then, the film rights were optioned by Harry Potter producer David Heyman and Up in the Air producer Jeffrey Clifford, for Dreamworks. And she's showing no signs of slowing down in 2013.
16. Donna Langley, Universal
She took a lot of interesting chances this year, most of which paid off — even if we didn't really love the results. She gave us The Lorax, one of the year's most successful films. She also gambled on Seth MacFarlane's Ted and won. Meanwhile, we also have Langley to blame for The Bourne Legacy and Battleship. These weren't slam dunk decisions, and the fact that she greenlit those films and they were all hits (except Battleship) is pretty major.
17. Gale Anne Hurd
The Walking Dead can't keep a showrunner for more than a year or two — but Hurd keeps steering the massive hit show, along with comic-book creator Robert Kirkman. And now she's launching a ton more projects, including a World War II alien drama called Horizon. And Gaiking, an adaptation of a 1980s anime series about giant robots that seems like it'll be pretty reminiscent of Pacific Rim.
18. Notch aka Markus Persson
The creator of Minecraft shook the game world when he announced his next game is science fiction-based — and it's one of the most hotly anticipated games of 2013. Not only that, but he claims 0x10c will be "hard science fiction." He also said "The goal is to have it feel a bit like Firefly". And apparently it takes place in the year 281474976712644 AD, with "all remote galaxies forever lost to red shift, star formation long since ended, and massive black holes dominating the galaxy." Can't. Fricken. Wait.
19. Amy Pascal, Sony
Speaking of execs who took risks — Pascal could have faceplanted when she decided to reboot Spider-Man instead of continuing the Tobey Maguire films, but instead it was one of the year's biggest films. She also restarted the Men in Black series in spite of huge challenges, and got the James Bond films back on track with Skyfall. And in television, she was one of the people responsible for giving us Breaking Bad. She also greenlit the hugely successful (if underwhelming) Hotel Transylvania.
20. Elon Musk, SpaceX/Tesla
Musk, the billionaire genius who helped inspire RDJ's Tony Stark, is building the future. This year, his space transportation company SpaceX completed the first ever commercial mission the International Space Station, secured a 12-flight $1.6 billion dollar deal with NASA, and scored a 250-million dollar contract with the U.S. Airforce. His car company, Tesla Motors, is revolutionizing the world of ground transportation with the Model S, which was recently named Motor Trend's Car of the Year. Oh yeah, he also wants to send 80,000 people to Mars.
21. Hugh Howey
In many ways, 2012 was the year that self-published authors became mainstream and lost their "second best" status. And the author of Wool was the poster child for that revolution, scoring a high-powered literary agent, huge foreign book deals, and a movie deal with Ridley Scott — all without signing up with a U.S. publisher at all.
22. Robert Downey Jr.
We started the list with one of the people behind The Avengers, so it seems fitting to end the same way. Downey Jr. managed to make this huge ensemble movie about him in some undefinable way, with Iron Man serving as the heart of the team (instead of Captain America, as you'd expect.) He owns two marquee characters at the movies: Tony Stark and Sherlock Holmes. And you should have been there in Hall H at San Diego Comic Con when he Luther Vandross-ed his way to the front of the room. He held the hearts of every geek in the giant room in his one metal-gloved hand.
Additional reporting by Amanda Yesilbas. Thanks also to Liz Gorinsky, John Picacio, Diana Gill and Ginger Clark for suggestions!