It's almost October, which means Halloween is just around the corner — the witching hour to end all witching hours is almost upon us. But about the real-life stories of witches who were burned and celebrated? A new book, The Penguin Book of Witches, provides actual documents. And we've got a doozy of an excerpt.
Here's the official synopsis of The Penguin Book of Witches, which is out today:
From a manual for witchhunters written by King James himself in 1597, to court documents from the Salemwitchtrials of 1692, to newspaper coverage of a woman stoned to death on the streets of Philadelphia while the Continental Congress met, THE PENGUIN BOOK OF WITCHES is a treasury of historical accounts of accusedwitchesthat sheds light on the reality behind the legends.

Bringing to life stories like that of Eunice Cole, tried for attacking a teenage girl with a rock and buried with a stake through her heart; Jane Jacobs, a Bostonian so often accused of witchcraft that she took her tormentors to court on charges of slander; and Increase Mather, an exorcism-performing minister famed for his knowledge of witches, THE PENGUIN BOOK OF WITCHES provides a unique tour through the darkest history of English and North American witchcraft.
And here's an exclusive excerpt, the actual letter of apology from the Salem Witch Trial jury:
THE APOLOGY OF THE SALEM JURY
1697
Following Samuel Sewall's public apology for his involvement in the Salem trials, a number of jurors who had been instrumental in the condemnations of witches also jumped to make their own public apology. They reaffirmed their intent to act rightly, but such rapid public distancing helped to push belief in witchcraft out of the courtroom and into the more private, and less measured, court of public opinion.
G/O Media may get a commission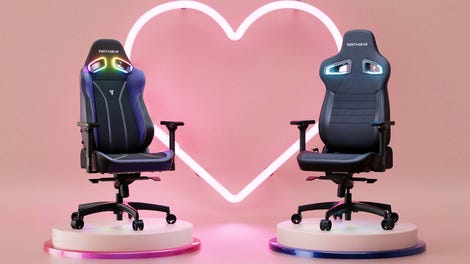 Up to $150 off
Vertagear Gaming Chairs
The Jury's Apology
Some that had been of several juries have given forth a paper, signed with our own hands in these words. We whose names are underwritten, being in the year 1692 called to serve as jurors in court in Salem, on trial of many who were by some suspected guilty of doing acts of witchcraft upon the bodies of sundry persons.
We confess that we ourselves were not capable to understand, nor able to withstand the mysterious delusions of the powers of darkness and prince of the air, but were for want of knowledge in ourselves and better information from others, prevailed with to take up with such evidence against the accused as on further consideration and better information, we justly fear was insufficient for the touching the lives of any, Deuteronomy 17.6, whereby we fear we have been instrumental with others, though ignorantly and unwittingly, to bring upon ourselves and this people of the Lord, the guilt of innocent blood, which sin the Lord saith in Scripture, he would not pardon, 2 Kings 24.4, that is we suppose in regard of His temporal judgments. We do, therefore, hereby signify to all in general (and to the surviving sufferers in especial) our deep sense of and sorrow for our errors in acting on such evidence to the condemning of any person.
And do hereby declare that we justly fear that we were sadly deluded and mistaken, for which we are much disquieted and distressed in our minds, and do therefore humbly beg forgiveness, first of God for Christ's sake for this our error. And pray that God would not impute the guilt of it to ourselves nor others. And we also pray that we may be considered candidly and aright by the living sufferers as being then under the power of a strong and general delusion, utterly unacquainted with and not experienced in matters of that nature.
We do heartily ask forgiveness of you all, whom we have justly offended and do declare, according to our present minds, we would none of us do such things again on such grounds for the whole world, praying you to accept of this in way of satisfaction for our offense, and that you would bless the inheritance of the Lord that He may be entreated for the land.
Foreman, Thomas Fisk Thomas Perly, Senior
William Fiske John Peabody
John Batcheler Thomas Perkins
Thomas Fisk, Junior Samuel Sather
John Dane Andrew Elliott
Joseph Evelith Henry Herrick, Senior
From "The Apology of the Salem Jury," 1697.
From THE PENGUIN BOOK OF WITCHES edited and with an introduction by Katherine Howe. Reprinted by arrangement with Penguin Books, a member of Penguin Group (USA) LLC, A Penguin Random House Company. Introduction and selection copyright © Katherine Howe, 2014.