Think it's hot in North America right now? Well, you need to shut-up and stop complaining, because parts of the Middle East are getting absolutely scorched right now. Yesterday, the temperature in Mitribah, Kuwait soared to a blistering 129.2 degrees Fahrenheit (54 degrees Celsius). That's a record for our planet's Eastern hemisphere.
As Weather Underground meteorologists Jeff Masters and Christopher C. Burt noted, if confirmed, that would be Earth's hottest temperature ever recorded outside of Death Valley, California. This record will likely be verified given that this temperature was recorded not once but twice. Earlier today, Basra, Iraq recorded the exact same temperature, 129.2 degrees F (54 degrees C).
The official world record high temperature is 134.1 degrees F (56.7 degrees C ), which occurred on July 10, 1913, in Furnace Creek Ranch, California, in Death Valley. This is a hotly contested measurement, and it's probably not a valid reading. According to Burt, a more plausible record for Death Valley is a June 30, 2013 reading of 129.2 degrees F (54 degrees C), which interestingly enough is the same temperature recorded just yesterday. Masters provides some more comparisons:
...Thursday's Basrah reading ranks as the fourth highest temperature ever reliably measured outside of Death Valley; the only higher non-Death Valley temperatures were today's 54°C (129.2°F) at Mitribah, Kuwait, a 53.6°C reading at Sulaibya, Kuwait in 2011, and a 53.5°C reading at Mohenjodaro, Pakistan on May 26, 2010. Note that there is one other competitor for hottest non-Death Valley temperature ever measured: the official all-time high temperature in Israel is a 54°C (129.2°F) reading from Tirat Tsvi, Israel on June 22, 1942...[but the] Israeli Met Office...refused to make public the details leading to their conclusions. Until they do so, the record remains suspect.
G/O Media may get a commission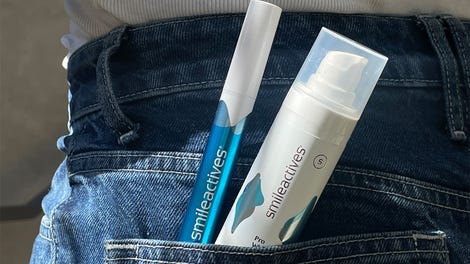 58% off
Whitening Powerhouse Pen & Gel Duo
In response to the heat wave, the Iraqi government declared a two-day public holiday.
But some have found ways to beat the heat.
Personally, I recommend this.
The Middle East's record-setting heat wave is expected to last for yet another brutal day, where temperatures could reach 128 degrees F or higher. Crazily enough, when the final maximum is recorded for the day, it could even be higher. We'll keep you posted should the record get smashed once again.