With gifts they say it's the thought that counts. But the thought won't keep everyone from laughing at you when you wear that horrific sweater out in public. Thank goodness for gift receipts!
If you happen to find yourself stuck with Macy's store credit after a post-holidays trip to the return desk, here are six items you probably would have rather unwrapped on Christmas morning.
While not as sturdy as the aluminum variety, the plastic used in Vapur's re-usable bottles doesn't come with the risk of Bisphenol A leaching into your water. And the fact that they're flexible enough to be rolled up for easy storage also makes them easier to smuggle when half full.
Try and slip into a stadium with an aluminum bottle full of hooch in your pants and security will be all over you. But tuck this away somewhere inconspicuous and you won't have to pay the exorbitant markup on the stadium's own libations. $10
G/O Media may get a commission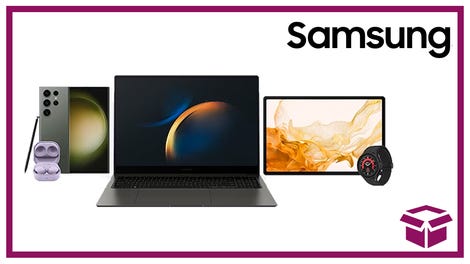 24 hour deals
Discover Samsung - Daily Deal
There's nothing wrong with getting something practical for the holidays. After all, who wants to spend their own money on emergency flashlights? But you'll be happy Eton's Blackout Buddy is plugged into your wall if a nasty Winter storm knocks out power.
When it detects an outage the flashlight automatically switches on an emergency light so it can be easily found, while a set of three bright LEDs provide ample lighting without draining the battery in a matter or mere hours. Think of it as a 21st century alternative to the candle... but without the warmth. $20
Owning a full size chocolate fondue fountain is a little extravagant. But owning a miniature chocolate fondue fountain? That's not only acceptable, but also a must-have kitchen/living room/bedroom accessory.
Nostalgia Electrics' two-tiered compact fountain holds up to two pounds of cascading melted chocolate, and if for some reason you're guilted into sharing, it comes with a set of four fondue forks. But I'm not sure what you'll need those for when fingers work just fine. $40
I'm dubious of Macy's claims that this is indeed a 'professional' cotton candy maker, since it pales in comparison to the machines run by carnies. But as long as it spins melted sugar into edible cotton, who cares?
The only ingredients you need are cane sugar, food coloring, and optional flavor extracts if for some reason the sweet, sweet taste of straight-up sugar isn't good enough for you. A set of plastic cones help you recreate the carnival experience at home, while a splash guard keeps the molten sugar from being sprayed all over your kitchen. $70
As state fair experiments have proven, everything is better when it's fried. So there's no reason why even a poorly equipped kitchen shouldn't have its own deep fryer.
The mesh frying basket in this counter-friendly model from Waring can keep almost two pounds of food submerged in three liters of scalding oil. Crisping everything from chickens, to fries, to candy bars, to fish, to onion rings, to fruit, to—well—you get the idea. Basically anything. The only thing that limits what you can put in there is your imagination and your concern for heart disease. $100
Macy's isn't exactly the ideal department store for someone with an affinity towards gadgets. But they do carry TDK's revival of the classic boombox—a nice option if you value sound quality as much as style.
A pair of 6-inch 20 watt speakers provide considerable more kick than the speaker built into your phone, but the boombox is not a dock. It instead features a USB port for connecting a flash drive full of files or a smartphone. A rotary dial and limited color LCD display let you control your music, while a leather shoulder strap means you don't have to hoist this boombox up on your shoulder. Unless you wanted to. $400