We know the Skyline invaders are out to conquer Earth, but we don't yet know the whole story. True Blood finds one of its main witches. Tron Legacy gets an animated spin-off with an all-star cast. Spoilers for all!

Skyline:
Star Eric Balfour says his character Jared is an artist from New York who is visiting friends in LA when the invasion occurs. He says this event is the catalyst that forces his character to finally grow up. He also explained we don't yet know everything about the aliens:
There is a mythology and physics to what they're doing that people don't quite see in the trailer. They get a sense of it though. The biology of how everything works is really cool.
There's more at the link. [ShockTillYouDrop]
In another interview, Balfour makes it clear the claim that the whole movie was shot in the directors' apartment building wasn't just hype:
"Yes that is very true! Greg and Colin Strause kept saying, 'How do we make a movie with all the stuff we already have?' So we shot it in this high rise building that Greg Strause lived in. What was really cool about the movie was that when we were inside of the apartment building it was very intimate, and felt very close and almost claustrophobic at times. And then when you go outside on the roof of the building through the corridors of this complex, the world became huge and [there were] these gigantic city-wide alien ships and droids and 60ft monsters trying to kill us. It was pretty amazing."
G/O Media may get a commission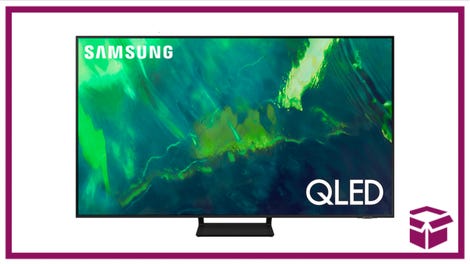 35% off
Samsung Q70A QLED 4K TV
Save big with this Samsung sale
If you're ready to drop some cash on a TV, now's a great time to do it. You can score the 75-inch Samsung Q70A QLED 4K TV for a whopping $800 off. That knocks the price down to $1,500 from $2,300, which is 35% off. This is a lot of TV for the money, and it also happens to be one of the best 4K TVs you can buy right now, according to Gizmodo.
Paul:
Here's another look at the alien, as well as our heroes' terrific taste in shirts. [Empire via Slashfilm]

Highlander Reboot:
Everyone's favorite cheesy, Queen-powered, inexplicably Sean Connery-costarring 80s immortality thriller is reportedly coming back to life. (We apparently forgot to cut off the franchise's head. Sorry about that.) Fast and Furious director Jason Lin is reportedly directing, while Iron Man screenwriters Art Marcum and Matt Holloway are handling the script. There's no word yet on who the new Connor MacLeod might be, but Vinnie Jones has been rumored to take over as the villainous Kurgan, originally played by Clancy Brown. [/Film]
Real Steel:
An 800-pound pig named Dottie appears in the opening scene of Hugh Jackman's robot boxing movie, according to her owners. For whatever reason, the filmmakers needed a pig to appear alongside Hugh Jackman in a crucial moment, so they picked Dottie. [Livingston Daily]
Harry Potter and the Deathly Hallows:
Tons of new photos have been released:

And here's a clip showcasing perhaps my least favorite part of the series, Ron and Harry's bickering: [CinemaBlend]
Voyage of the Dawn Treader:
Here's the final trailer for the new Narnia movie: [First Showing]
Breaking Dawn:
Here are a couple videos from the filming in South America: [SpoilerTV]
And here's a set picture of, shockingly enough, a kiss: [Examiner]

The Walking Dead:
Here's a sneak peek at the next episode, "Tell It To The Frogs":
True Blood:
Fiona Shaw has reportedly been cast as Marnie, a new regular character. Marnie is a timid small-time medium and palm reader who becomes possessed by a powerful witch. Shaw is probably best known for playing Aunt Petunia in the Harry Potter movies. [Deadline]
No Ordinary Family:
Lost alum Jessica Marder will reportedly guest star in an episode in January. She will reportedly play one of Stephanie's coworkers at Global Tech, who may be hiding some of her own secrets. [TV Guide]
Supernatural:
A couple new previews are out for the next episode, "All Dogs Go To Heaven":
Here are some new photos for the ninth episode, "Clap Your Hands If You Believe": [KSiteTV]

Doctor Who:
Matt Smith provides a rather thematic synopsis for the upcoming Christmas special:
"There's lots of snow, crackers and turkey, and that goes hand in hand with the spirit of The Doctor and Doctor Who, really. He loves Christmas. It's showcasing humans at their most open and giving and kind. It's everything The Doctor's about."
The Sarah Jane Adventures:
Here's some promo photos from the season finale, "Goodbye Sarah Jane Smith." [Blogtor Who]

Tron Uprising:
The new Tron movie is getting a cartoon spin-off coming in the summer of 2012. The cast is actually pretty impressive: Elijah Wood, Emmanuelle Chriqui, Mandy Moore, Paul Reubens, Lance Henriksen, and Bruce Boxleitner. Wood plays the main character, Beck, a computer program who leads a revolution inside the Grid. No word yet on precisely how this fits in with the series as a whole, or whether there's any chance the other stars of Tron Legacy might make any appearances, either authentically or in soundalike form. [Moviefone]
V:
A season 2 poster is out: [Multiple Verses][gallery 5685092]

Smallville:
Here's a bunch of clips and sneak peeks at the next episode, "Abandoned":

Sanctuary:
Here's a sneak peek for the next episode, "Broken Arrow": [Syfy] Click to view

Being Human:
Here's another promo for the American remake: [KSiteTV] Click to view

Additional reporting by Michael Ann Dobbs and Charlie Jane Anders.