The next Teenage Mutant Ninja Turtles may have a title. Could a new Star Wars book character come to the big screen? Plus, new footage from Mad Max: Fury Road, Daredevil and Game of Thrones. And teasers for what's in store in the X-Files relaunch, Outlander and more. Here be spoilers!
Top image: Avengers: Age of Ultron.
Teenage Mutant Ninja Turtles 2
5 players each from the Los Angeles Clippers and the New York Knicks will be in a scene for the film, according to L.A. Clippers player J.J. Redick. Redick also said that the subtitle for the film is "Half-Shell". [ Grantland via Comic Book]
---
Star Wars: Rogue One
Cineflix are reporting that Moff Mors, the first canonical LGBT character in the Star Wars Universe, is going to cross over from the books into one of the live-action movies, most likely the spinoff film Rogue One.
G/O Media may get a commission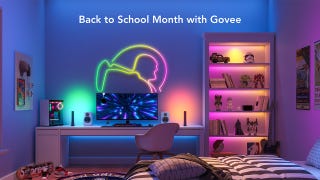 Back to School
Back to School Month with Govee Sale
---
X-Men: Apocalypse
The latest Meet the Movie Press podcast has two Marvel related rumors: the first being that Psylocke is being cast for the next X-Men film. [via Jeff Schneider]
---
Captain Marvel
And the second rumor from Meet the Movie Press is the reiteration that Marvel is searching for a female director for this movie. [via Jeff Schneider]
---
Batman v. Superman
Weirdly enough, a U.S. Senate hearing has revealed some new information about the movie. Speaking before the Senate Appropriations Subcommittee on Diplomacy and National Security, Ben Affleck (speaking as the founder of the Eastern Congo Initiative, rather than as the Batman actor) noted that committee member and Democrat senator Patrick Leahy appears in the film. [IGN]
Badass Digest has some rumours on how the Man of Steel and Caped Crusader find themselves going toe-to-toe with each other — apparently Superman is called into Gotham to take on Batman at the behest of Lex Luthor, and at one point in the initial confrontation destroys the new Batmobile with a single punch.
---
Suicide Squad
Another picture from the set, from director David Ayer: this time medical records from Arkham Asylum. [ David Ayer via Coming Soon]
---
SPECTRE
Coming Soon has a description of a scene from the movie taking place in Mexico City:
In the scene, Craig's Bond meets Stephanie Sigman's Estrella in the middle of the festivities, which, in addition to the massive crowd, include giant skeleton floats and other bigger-than-life decorations. Making their way through the parade, Bond and Estrella enter the Gran Hotel De La Ciudad De Mexico (which was also featured during production on The Living Daylights). Although Estrella thinks she's seducing Bond, he's instead fixated on her window, watching two men have a conversation.

We're not sure exactly what happens, but we were told that Bond "stops something really bad from happening" and, killing one of the men, chases after the other man on foot. That man, played by Alessandro Cremona, is named Sciarra and, although he attempts to flee via helicopter, Bond does not give up pursuit, taking the fight into the air
---
Deadpool
Here's a brief synopsis that came with the first look at the Deadpool costume:
Based upon Marvel Comics' most unconventional anti-hero, DEADPOOL tells the origin story of former Special Forces operative turned mercenary Wade Wilson, who after being subjected to a rogue experiment that leaves him with accelerated healing powers, adopts the alter ego Deadpool. Armed with his new abilities and a dark, twisted sense of humor, Deadpool hunts down the man who nearly destroyed his life.
[ Fox]
---
Avengers: Age Of Ultron
Joss Whedon says that adding Scarlet Witch and Quicksilver to this movie gave him the chance to create movie versions of two Marvel heroes from scratch, and the ban on mentioning mutants meant he got to take some liberties with their backstory. In this version, the Maximoff twins volunteer to be given superpowers by Baron von Strucker (who's experimenting with Loki's staff) because they distrust the Avengers. Whedon explains:
They don't like America, and they don't like the Avengers... We only touch on it briefly — there was more. When the movie was an hour longer, everything got explained a lot... The Avengers are like a world power, and not everybody's on board with the Avengers coming in and starting fights, even in the name of justice. So you need that dissenting voice, and you need to understand it and sympathize with it.
And Whedon shoots down rumors that the film is three hours long — it's now about 142 minutes, or a minute less than the first Avengers.
Aaron Taylor-Johnson and Elizabeth Olsen, who play the twins, say that they're super close and protective of each other because of their orphaned childhood. And Taylor-Johnson says he's not worried by Evan Peters' version of Quicksilver, who appeared in X-Men: Days of Future Past:
I bumped into him, actually, at Comic-Con [in 2013], when we were doing Godzilla, and they were doing X-Men. I said to him, 'How was it? How was the shoot?' I think the X-Men movies are great. I don't fear things like that. I feel like without Scarlet Witch, you haven't really got Quicksilver. We're not just, like, a little moment in this. We have a story. We have a history. Yeah, OK, he's fast as fuck, but who cares? It's just a super power, you know? You're gonna want to know about Tony Stark in order to love Iron Man. We want to know [Bruce] Banner before we can understand why he's so destructive as Hulk.
And finally, Taylor-Johnson adds a bit more spark to the rumors that Quicksilver doesn't make it out of Age of Ultron alive — Olsen says she's already signed up for another film after this one. But Taylor-Johnson would only say that his status after this film is "sort of up in the air."
Tons more at the link. [Buzzfeed News]
Learn a little more about the Maximoff twins in this new featurette. [ Spoiler TV]
---
Mad Max: Fury Road
Things go boom in this brief new teaser for the movie. [ Coming Soon]
---
X-Files
Robert Patrick, Annabeth Gish and Mitch Pileggi are being eyed to return, although no deals have been made just yet. [ TV Wise]
Here's David Duchovny on how the show is being approached:
Is that why you're doing it now? Or does the time feel especially ripe for it for some reason?

The time is right because we got our [act] together to do it. In terms of culturally or what people want to see, I don't know. I imagine if we waited too much longer people would eventually lose interest. It's different from something like "Star Trek," which started out campy and then, especially with the J.J. Abrams stuff, became legit somehow. You might argue with me, but I always felt like we were legit. We're still trying to do the same show. It's not like were trying to make it 2.0, or whatever the .0 is now. 3.0. We're gonna make the same show. But it'll be interesting because Gillian and I are older. I don't want to act like it's 20 years ago.

Is it going to be serialized or just like a collection of movies of the week?

We're gonna do both. I'm pretty sure it's gonna begin and end with the mythology. But I really don't know.
[ NY Times]
---
Arrow
Marc Guggenheim took to Tumblr to confirm that for now, Deadshot won't return to the show.
And here he is on twitter, confirming that the penultimate episode of Season three is called "This Is Your Sword":
---
Grimm
Claire Coffee preview's what's ahead for Adalind:
After all she went through — physically and emotionally — with Diana, and still not knowing where she is, I can't imagine that Adalind will ever be like, "Oh, awesome. I'm doing this again."

"Awesome" is definitely not her reaction to the baby. She's still trying to find Diana, so when she finds out about this new pregnancy her first reaction is just, "Oh, no. What do I do with this now?" It's fairly hard for me, just from an acting perspective, to even try to relate to what kind of emotions she must be going through and what's motivating her to not just give up and run away to Bermuda and hang out there for the rest of her life, because she's really got herself in a pickle. But the royal family has kept her guessing for so long, and with the new pregnancy, she will at least find out pretty quickly who has her back, if anyone.
[ TV Line]
---
The Flash
Mark Hamill talks about how he came to return to the role of The Trickster:
When this version came on, my daughter Chelsea is a big fan, and I watched it from the very first episode," Hamill recalled. "In fact, I even thought, since they were doing Weather Wizard and various other Rogues' Gallery characters, I wondered if they were going to do the Trickster. And then, again, I got a call from my business people saying 'they want you to do something on The Flash.' And I was thinking, you know, like a colleague of John Wesley Shipp's; a professor… something age-appropriate. I'm not getting back into that one-piece jumpsuit; the spandex deal. So, I said 'well, who do they want me to play?' and when they said The Trickster, I just couldn't believe it. I couldn't figure out how that could be, unless it's some kind of weird time travel episode. I don't know. I was very skeptical, but then I called Andrew [Kreisberg]," he said, and the producer's explanation of what things would be surely pleased him, since he came back to the show.
[ KSite TV]
And here's a preview comic featuring the new Trickster. [The Flash on Twitter]
---
iZombie
Here's a brief synopsis for "The Exterminator", as well as a clip where Ravi and Liz investigate potential Zombie activity on the Internet. [ Both via Spoiler TV]
Liv and Ravi investigate reports of another zombie. When Ravi gets a little too close and personal with the zombie Liv's reaction puts his life in danger. The episode also sees Liv and Peyton come to blows when Liv derails one of her cases.
---
Agents Of SHIELD
Here's a new synopsis for 2.17, "Melinda":
"Melinda" – The story of Melinda May's transformation into "The Cavalry" is revealed as she finds herself at a crossroads in the war between Coulson and Gonzales. As Skye learns more about her true heritage from Lincoln, the truth about the Inhumans will send her in a new direction, on "Marvel's Agents of S.H.I.E.L.D."
[ Spoiler TV]
Coulson confronts Mack on his true allegiance in this clip from "One Door Closes". [ Spoiler TV]
---
Dominion
A new press release from Syfy reveals some of the new members of the cast:
Production is underway in Cape Town, South Africa for the 13-episode second season of Syfy's supernatural drama series, Dominion. Joining the series' stellar cast are recurring guest stars Nic Bishop (Covert Affairs), Simon Merrells (Spartacus: War of the Damned), Christina Chong (24: Live Another Day), Olivia Mace (Doctors) and Luke Tyler (Chronicle). Season 2 of Dominion is set to premiere on Syfy in Summer 2015.

Nic Bishop portrays Gates, a brilliant but troubled military genius who helped build Vega into the stronghold it has become.
Simon Merrells plays Julian, the cunning and powerful leader of New Delphi. Julian is a cryptic man with motives as questionable as his past and will go to any lengths to protect his city.
Christina Chong is Zoe, a member of Vega's Archangel Corps who defected to a rebel faction. Bold, fierce and scrappy, she's a member of the poorest class that dwells in the city's dangerous tunnels.
Olivia Mace portrays Laurel, the steadfast leader of the small Southern town of survivors who have inexplicably managed to insulate themselves from the fallout of The Extermination War. Laurel is deeply devout to her religious faith and is unwavering in her resolve.
Luke Tyler plays Pete, an energetic, bright, dynamic and eternally optimistic teenager who grew up in the apocalypse. He has only ever known a battle-torn world, so he has no memories of the peaceful past.
[via Spoiler TV]
---
Salem
Here's the synopsis for the second episode of season 2, "Blood Kiss":
In the wake of Mercy's brutal act of violence, Mary works to rally the citizenry of Salem against her rebellious, wayward former protégé, and to put an end to the willful Witch's uprising. Despite the unwanted distraction, Mary moves forward in her bid to complete her Hive's dark task with the promise that her eventual success will result in a permanent reunion with her son. As Dr. Wainwright looks for clues to cure the growing plague, his methods create concern for the Selectmen. While his only hope seems to be the discovery of the pox-ravaged Isaac, who, beyond all expectations, clings to life, the possibility of his success creates additional concern for Mary and Tituba. Meanwhile, John Alden prepares for an epic confrontation still to come, and has a telling encounter with an unexpected ally; Mary's son begins to show another, unsettling side of his nature; and Anne Hale - ripe with her new and as-of-yet uncontrollable powers - embarks on an unforeseen journey... but discovers more than she bargained for.
[ Spoiler TV]
---
Daredevil
Learn a little bit more about Matt Murdock's origin in this new TV spot. [ CBR]
---
Outlander
Here's a new featurette for the rest of the season, focusing on Jamie and Claire's relationship. [ Spoiler TV]
---
Game Of Thrones
There's some brief snippets of new footage in this new promo for season 5. [ Spoiler TV]
---
The Vampire Diaries
Here's some new promo pictures for "I Could Never Love Like That" — find more here. [Spoiler TV]
---
The Messengers
Here's some new pictures of the cast — more at the link. [Spoiler TV]
---
Supernatural
Finally, here's some promo pictures from "Inside Man" — you can see more here. [Spoiler TV]
---
Additional reporting by Abhimanyu Das and Charlie Jane Anders.