At IFA in Berlin Lenovo announced a nice array of refreshed laptops and tablets, updating great devices like the Lenovo Yoga 900 series (now the Lenovo 910) with 7th generation Intel processors, but one device stood out among the rest. It's the tiniest laptop Lenovo has on display, so tiny the company is classifying it as a tablet. The Yoga Book is just 0.38-inches thick, which makes it the thinnest laptop currently available, and makes ultra slims like the half-inch thick Samsung Notebook 9 and Apple Macbook look positively chunky.

The Boogeyman's Sophie Thatcher Reveals What Draws Her to Dark Characters | io9 Interview
And its keyboard is a doubles as a drawing tablet.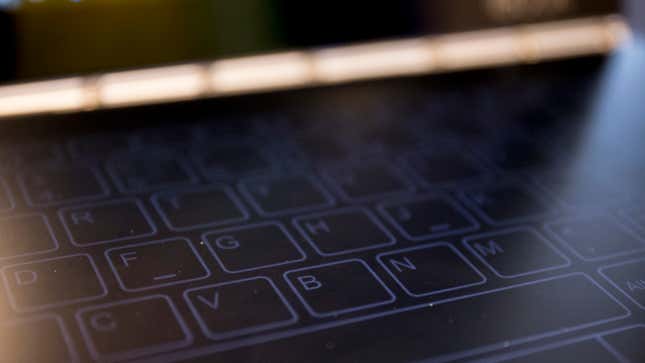 Officially it's called the Halo Keyboard, and if you've ever tried to quickly type on a tablet's software keyboard than you'll be familiar with the experience. Only it's a little nicer because the keyboard is separated from the display, so it doesn't suck up screen real estate, and it has a pleasantly rough texture. It's also got haptic feedback, which in the case of a touchscreen keyboard is sort of like sticking lipstick on the pig.
The keyboard would seem like a goofy grab for attention, but Lenovo seems to have put some thought into the device. A press of a button turns the keys off and turns the keyboard into a drawing tablet. From there, it behaves a lot like a Wacom tablet, directly reporting pen input into your chose app. It even reads pen inputs through paper laid over the input panel.
The "tablet" (come on guys, its a laptop) has an Intel Atom processor, 64 GB of storage with microSD support, 13 hours of promised battery life, 4G LTE capabilities, 802.11 AC Wi-Fi, front and rear cameras, and a 10.1-inch, 1980 x 1200 display.
I had the opportunity to try the device ahead of IFA, and I noticed a few buggy moments where it didn't seamlessly switch from keyboard to drawing tablet and back as smoothly as promised. But that's a bug Lenovo can hopefully resolve by the time it ships in late October. The Yoga Book will appear in two flavors, a $500 Android version and $550 Windows 10 version.