"Is that a… laptop?" the waitress at the diner near my apartment asked (I had taken the Lenovo Yoga 900s with me to get some work done). "Sort of!" I said, quickly bending the screen around to demonstrate the Yoga line's defining feature: the watchband hinge that converts the device from an ultra-thin laptop to a tablet. The waitress looked on in horror.

Two-in-one PCs that backflip from a laptop to a tablet have been around for years now, and Lenovo's Yogas have always been among the best. But it's not surprising that my waitress hadn't seen one before, and in fact, I didn't really have any experience with them before this review. The form factor just hasn't caught on in the mainstream yet.
But as I discovered with the Yoga, a backflipping screen can be a lot of fun when done this well. It would be a worthy gimmick if that's all it was, and more than enough reviews have drooled over that watchband hinge of the Yoga line. The trick with the Yoga 900s, however, is that not only does it work well, but Lenovo managed to stuff enough goodies into the 0.5 inch shell (the thinnest yet from a Yoga) to make the 900s a joy to use even after folding it in half becomes boring.
Over the course of the week that I used the new 900s, it proved itself an excellent travel laptop. It's thin enough to fit into any backpack or messenger bag, and light enough to barely register as added weight—something that wasn't the case with previous Yogas. It also has enough battery life to keep you from scrambling for a wall outlet. At 2.2 pounds, it's amazing the battery lasted six hours at full brightness streaming videos off Hulu.
Having the tablet mode available also made it an appealing choice for reading comics. A dozen or so issues of John Layman's Chew later and I was convinced. This isn't like other, thicker and clunkier convertible laptops. The 900s has become my go-to companion for shoveling books, comics, and movies into my head while stuck on the train. It was pretty good at guessing whether it was in laptop, tablet, stand, or tent mode (though personally I never found a good reason to use either of the latter two configurations.) Unfortunately, the screen isn't terribly bright, which makes those activities difficult or impossible outdoors.
G/O Media may get a commission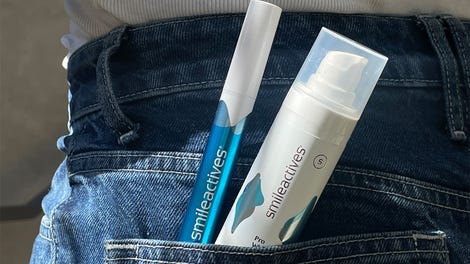 58% off
Whitening Powerhouse Pen & Gel Duo
But then there's the tiny shift key. This seems like such a whiny, nit-picking complaint but hear me out. On the vast majority of keyboards, the right-hand shift sits just beside the "?/" key. Not so on the Yoga, which shrinks that shift to wedge the up arrow in between (the left shift, almost mockingly, retains its normal size). Take a guess at how many typos that leads to for a right-handed person? The answer is: I was too busy inventing new combinations of obscenities to count. Given how many activities require quick and fluent typing, you'll see why I briefly considered tearing the up arrow out of the Yoga and throwing it into the sun before remembering I'd have to ship it back to Lenovo at some point.

There are a few other minor annoyances. Windows laptops tend to have shoddy trackpads and though the Yoga is better than most, it's so damn small that I often preferred using the touch screen. However, any program running fullscreen runs into the touch screen's only issue: the edges are terribly insensitive. Also, no one should have expectations that a half-inch laptop will have incredible speakers, but placing them on the underside of the chassis is just plain stupid considering the screen is designed to move into a position that badly muffles the sound coming out of them.
(While we're at it, an HDMI port would have been nice, but I understand making some space, considering the need to future-proof the machine with a USB-C port. Begrudgingly, I will buy a new secondary monitor soon.)
The Lenovo Yoga 900s isn't a laptop for gaming, video editing, or anything else CPU- or GPU-intensive—it's got a Core M processor best suited for consuming instead of creating. And for that reason some might consider the cost on the 900s to be a major drawback. At $1,100 it's roughly the same price as a Macbook or a similarly-sized iPad and just a bit heavier than the latter, but with a full keyboard, maybe a bit more battery life, and, eventually, far fewer screen scratches. And you can gloat knowing that if Apple ever does put out a fully convertible laptop, it would probably retail for far more than what Lenovo is charging.
There are dirt cheap Chromebooks and ultra-powerful portables on the market, and the Yoga isn't trying to fill either of those niches. But if you're flush with cash, you're getting an astonishingly light and fast 2-in-1 that's legitimately good at everything it claims to do.
README
Great all-arounder
THE GODDAMN SHIFT KEY
Not cheap, but totally reasonable for what you're buying
Fix these shitty trackpads and I promise I'll reconsider using Windows
SPEC DUMP
Price: $1,100—$1,150
Processor: Intel m5-6Y54 Processor (1.10—1.20 GHz, 1866 MHz 4MB)
Storage: 128—256 GB SSD
Memory: 4—8 GB
Battery: 53 WHr
Display: 12.5" 1920x1080 touch screen
I/O: USB-A 3.0, USB-C 3.0, DC power/USB 2.0, ⅛" audio combo
Weight: 2.2 lbs