Yes. You read that right. A movie about Transformers in Ancient Rome. If they do not fight for the entertainment of the masses in the Coliseum, it will be a travesty.

Empire has a story out about the writer's room that has been assembled to keep Paramount in Transformers scripts for centuries to come. Via the Transformers fan site Transformer World 2005, we now have this information:
A Bumblebee spinoff, conceived and written by Christina Hodson, is being directed by Kubo and the Two Strings' Travis Knight for a 2018 release. Set in the 1980s, it will feature significantly fewer Transformers, concentrating on the big, yellow star (who in the movies so far can only talk in snippets of radio broadcasts) and likely pitching a little younger, tonally. Also coming is an animated prequel about the origin myth of the Transformers' home planet Cybertron, written by Ant-Man's Andrew Barrer and Gabriel Ferrari, set billions of years ago. And discussions have been had about one set in Ancient Rome.
An animated prequel about Cybertron makes sense, especially if it piggybacks off of the history used in The Last Knight.
Setting the Bumblebee spinoff—set to star Hailee Steinfeld—in the era when the cartoons premiered seems like a clever way to incorporate the history of the franchise into the films. That said, "pitching a little younger" is confusing. Mainly because the younger you go, the less interest there is in a movie set in the 80s. These days, the sweet spot for that is really people in their 40s. It's not like the '80s are one of those super-cool periods that fiction uses all the time like the medieval era or the '40s. I am glad to see Transformers taking a cue from the X-Men movies by going back in time and also setting up its own giant continuity snarl to ignore.
G/O Media may get a commission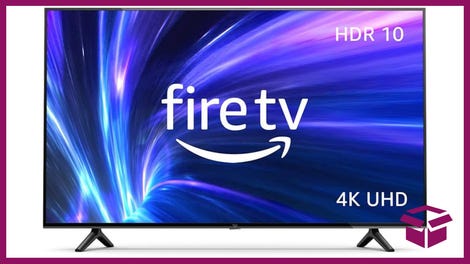 42% Off
Amazon Fire TV 50" 4K Smart TV
Speaking of time periods that let you have all sorts of cool armor and fighting... Transformers Roman Holiday. Now, as recently as a year ago, that would have sounded weird. But, hey, the movies already had aliens making dinosaur Transfomers millions of years ago and made the first man on the moon part of a mission to investigate a Cybertronian wreck, so why not Ancient Rome? If anything, every single bit of marketing for Transformers: The Last Knight has made clear that all of human history was rife with giant robots that everyone managed to collectively forget somehow. Robot gladiators are not the worst idea anyone has had.