The US Navy's brand new $4 billion warship is an incredible technological feat. The futuristic DDG 1000 Zumwalt-class destroyer is equipped with two guns that can hit targets from a stunning 80 miles away. The only problem? Rounds for the guns cost over $800,000 each. And the Navy has now decided that it can't justify spending that much.

According to Defense News, the warship's two Long Range Land-Attack Projectile (LRLAP) guns were manufactured by Lockheed Martin and they work exactly as designed. But when the Navy cut back its order from 28 warships to three, the costs associated with the destroyers and its munitions skyrocketed.
"There is no blame on any individual," a Navy official told Defense News. "The round was working, [and] the way forward was logical. It's just that the cost with a three-ship buy became a very high cost."
The Navy has made its recommendation that the LRLAP guns be cancelled, but that decision hasn't been approved yet. The rounds that have already been purchased are scheduled to be used during the Combat Systems Ship Qualifications Trials in 2018.
The Navy is currently scrambling to find something to replace the pricey guns. It's reportedly looking at alternatives from Raytheon and BAE Systems, though it's not clear what kind of cost savings those options will provide, should they move forward.
G/O Media may get a commission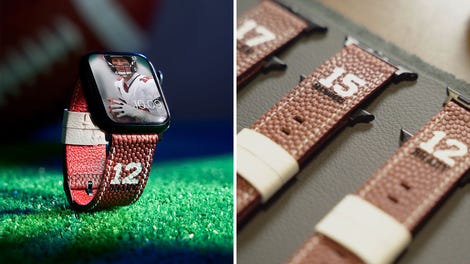 Official NFL PRODUCTS
Official NFL Apple Watch Bands
But whatever they find, they're just hoping to get something below $800,000. Because even that figure was probably less than the final cost of each round.
"That's probably low," the Navy official told Defense News about the $800,000 estimate per round. "That's what the acquisition community wanted to get it down to."