Check out this weird-looking mountain range, with its shapes contrary to geology. Is it the result of a freak earthquake? No, it's how the dot-com boom looks in mountain form. Artist Michael Najjar modeled world stock indexes as Argentinian mountains.
The one above is the NASDAQ Stock Market from 1980 to 2009 — note the one insanely skinny spike, which must represent the 1999 heyday of NASDAQ speculation, when smaller companies were bajuppling their market capitalization overnight. Najjar's method of modeling the stock index as a set of mountains dramatizes just how insane those peaks and valleys were. Check out a few others here, and then see the rest over at his website. [Michael Najjar]
Dow Jones, 1980-2009

G/O Media may get a commission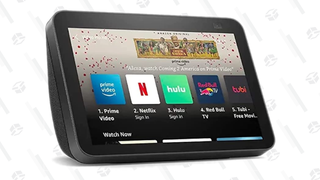 Nikkei

Can you spot the 1997 Asian market crash in this Hang Seng mountain range?