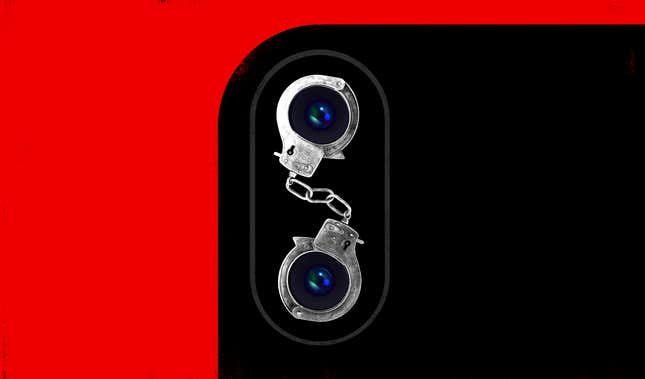 The texts would come at all hours of the night, numbering in the thousands. "Have you been with an older guy?" "You're really hot, so it's worth the risk of getting in trouble." "Has your daddy fucked you today?"

Vizio's Latest TVs Go All Quantum
For a few days, Jennifer, a 40-something stay-at-home mom from South Dakota, received messages like these from strange men who thought they were talking to an underaged girl. Jennifer was acting as a decoy for Hunted and Confronted, a rogue online community dedicated to tracking down and ambushing pedophiles. She since stopped. She had to. "I was having dreams about this," she told me. "Those men just got to me." She then transitioned to being an admin for the group's Facebook page, but recently stepped down from the group altogether because it was too overwhelming.
Hunted and Confronted is not affiliated with any police department. Their tactics are relatively mild-tempered. In most videos, founder Jesse Weeks confronts the suspected child sex offender at a public location. He approaches them, asking them what they're doing there before admitting he is running a sting operation and has all of their chat logs, then launching into an interrogation and streaming the interaction live to Facebook using his phone. But the confrontations are hardly low-profile—Weeks encourages viewers to take screenshots and share, focusing the camera on the confronted individual's face, license plate, and the moment of arrest. Occasionally, the group makes the local news.
According to The Greeley Tribune, in June, registered sex offender Travis Joe Benson, 30, was arrested outside of a convenience store in Greeley, Colorado, where he believed he was meeting a 15-year-old girl named Gracie who he had been sexting on the dating app Just Say Hi. He had actually been speaking with a decoy member of Hunted and Confronted. Weeks was at the scene of the arrest, streaming it on Facebook Live to its several thousand followers. The camera movement is shaky and unfocused, wavering from part of his face to the suspect to the ground as he walks closer. He's palpably anxious, crouched a good distance away while he waits for the police to arrive.
"Fuck yes," Weeks excitedly exclaimed as he hurried over to the scene of the arrest, excitedly chanting "the arrest! the arrest!" over and over as people congratulated him in the comments. The video at the time of writing this has 286 shares and 25,000 views. "Don't talk to little girls, brotha," Weeks shouted at Benson as cops took him away. "Damn great job! This is literally two blocks from my house. New follower thank you!" one commenter posted. "Watching from UK well done," wrote another. "Much love. Share this video. We did it," Weeks, adrenalized and slightly out-of-breath, tells his viewers as he signs off and heads to the police station to share evidence.
Weeks claims that Hunted and Confronted has confronted 14 predators since the group's establishment in June of this year—the first confrontation was July 20th. They have called the police on seven of those occasions; the police came on three.
"We have a whole town taking about last night's police arrival," Weeks told me over Messenger. "We have his neighbors thanking us."
Sgt. Joe Tymkowych, the public information officer at the Greeley Police Department, told Gizmodo in a statement that this was "a very unusual case." He appeared to appreciate Weeks providing law enforcement with incriminating evidence, noting that law enforcement has long used decoys for similar purposes. ("However, law enforcement needs to be cautious of stepping over the line into an area of entrapment.") He discouraged confrontation of "this type of individual" by citizens, "for safety."
According to the Sgt. Tymkowych, Benson remained in custody as of Tuesday morning. He was booked with Attempted Promotion of Obscenity to minor, which is a felony, Attempted Sexual Assault of Ten Year Age Difference, a misdemeanor, and Criminal Attempt. The chat logs provided by Hunted and Confronted have been placed into evidence.
---
"I wouldn't classify myself as a vigilante, I'm just a citizen," Weeks told me. An over-the-road truck driver based out of Coeur d'Alene, Idaho, he drives a semi on the southern-western states, and stages stings along the general areas he travels. He looks like he's in his 20s, and wears graphic tees and baseball caps (one reads "I DON'T GET TIRED").
He said there are about six core members in his group right now—people he recruited based on qualities like optimism, enthusiasm, liking kids, being mothers, being fathers—Weeks said they reached out to him, interested in getting involved after he put out a video soliciting volunteers on his personal Facebook page. There're core members in Washington, North Carolina, Alabama, and Massachusetts. "We consider each other a family," Weeks said, pointing out that they all talk on the phone regularly.

Since Hunted and Confronted travels through different states, the laws around sex crimes vary. Weeks also noted that precincts and police responses differ depending on where they are. Often, his tips aren't taken seriously or are ignored. With the Greeley, Colorado confrontation, the police were quick to show up. When they do, it's likely they will want to collect evidence of the chat logs from the decoys. Jennifer pointed out that for decoys, this could mean handing over their phones. According to Weeks, a police department in Arizona suggested he get a mobile printer for his truck so that he could print chat logs out on the spot. "Worth every penny," Weeks said.
Hunted and Confronted is nowhere near the only Facebook page with a professed mission to publicly identify child sex offenders. Other self-styled pedophile-hunting groups include Dark Justice, Net Justice, and The Child Protection Officers, as well as The Hunted Public Awareness, and Predator HunTers, which have transitioned from tracking down suspected pedophiles, exposing them, and tipping off local enforcement to "raising awareness." That involves sharing videos from other active hunting groups and effectively acting as a repository for information on child sex offenders.
While the core members of many of these groups are small, they have thousands of dedicated followers. Dark Justice, a UK-based group which has run sting operations since 2014, which is run by just two men, has nearly 200,000 members. The founder of Dark Justice, who goes by Scott (not his real name) claimed that as of August 2nd, Dark Justice has caught 156 potential sexual offenders, secured 80 convictions and, of those convictions, 44 received the custodial sentence while the rest got suspended sentences. (Dark Justice includes all of its alleged closed cases on the group's website, breaking each case down by individual, with details like the confrontation, the prison sentence, and the charges.)
The Hunted Public Awareness, formerly just the Hunted, was the catalyst for a brawl at a shopping center in the UK last April. The group was streaming the confrontation of an alleged child sex offender on Facebook Live, prompting the fight. Local police condemned The Hunted's efforts, leading the group to announce it would no longer post videos of its sting operations.

Kent Police Chief Superintendent Andy Pritchard told Gizmodo in an email that "Child protection is a top priority" for the department and that it has dedicated teams aligned with this mission, citing its Paedophile Online Investigation Team and its Child Sexual Exploitation Team. He criticized vigilante groups for compromising official police investigations and putting children and suspected offenders at risk, saying:
We are therefore well equipped to investigate and bring to justice those who pose a risk to children and would advise members of the public not to take the law into their own hands. The actions of vigilante groups can cause numerous issues for our detectives that those involved may not have considered beforehand.
And getting in the way of ongoing investigations is far from the only implication of a group of nonspecialists effectively acting as a specialist unit targeting child abusers. For one, Pritchard said that these efforts risk outing the identities of suspected child sex offenders, which not only gives them a chance to get rid of evidence ahead of an investigation, but also drains departments of resources to protect them once their identity is revealed. What's more, Pritchard claims that suspected pedophiles have been wrongly accused in the past, "which has had a devastating effect on them and their families." He also criticized these vigilante efforts for not only putting children at risk, but endangering presumed child sex offenders who have mental health issues. As far as the unauthorized operations go, Pritchard said that no kids had been found harmed or at risk from the individuals confronted in the vigilante stings in Kent.
Groups like Hunted and Confronted and Dark Justice that still deploy sting operations do so by creating fake profiles of underage girls on a number of different services. Weeks and Jennifer cited Whisper, Scout, Kik, Just Say Hi, Plenty of Fish, WhatsApp, MocoSpace, and Waplog as some of the apps decoys use. Both Hunted and Confronted and Dark Justice members said that they only use photos of consenting individuals. In both instances, someone 18 or older would volunteer their images, which might be photos of them looking considerably younger or photos of them as minors. Jennifer said that one of the volunteers is currently 19 but gave her photos from about two or three years ago.
That's not always the case. Justin Payne, a vigilante child predator hunter in Canada, allegedly used photos of an underage daughter of his ex-girlfriend without the girl's consent. He denied the accusation. "He's hand-delivering them to the worst people in the world," the girl alleging Payne used photos of her without her permission told CTV News in April of last year. "He portrays these girls as stupid airheads. They don't even spell right in these conversations. Someone's going to see me and think, 'She's stupid, she's vulnerable, I can take her if they see me on the street."
Many of these services require users to be 18 or older. Jennifer claimed that in those cases, they would make sure to inform the person they were talking to that they were minors within a few messages. "It's a lot of work," Jennifer said. "These people put a lot of work into this. You have to have all these apps and you have all these weirdos messaging you. They're sending you horrible pictures." She said people will send her dick pics as well as ask her to have sex on video together, video chat, and send them nude photos—she would decline these invitations by saying that she was shy or nervous to do that over the internet.
Once decoys have collected evidence through these chat logs, they'll plan to meet in-person with a suspected child sex offender, tipping off police with the information they've collected and the whereabouts of the individual. The expressed goal for these groups is for these confrontations to end in an arrest, which does happen, albeit infrequently, but more often they result in public shaming, posted or streamed to the group's Facebook page.

In some of the more recent videos on the Hunted and Confronted page, Weeks unassumingly approaches the individual who believes they are meeting someone underage. He walks up to them, asks if they have a lighter, lets them know he's recording for their respective safety, and launches into an interrogation. In one, a 27-year-old man begins to hurriedly walk away, with Weeks quickly trailing behind. "You're drunk dude," the guy tells Weeks. "I can smell the booze on you." They eventually get into a contentious discussion, resulting in the man deleting the messaging app and walking away. In another, Weeks sits down with a 19-year-old who believes he's meeting up with a 15-year-old, giving the young man the option to call the police or call his dad. He chose the latter.
Dark Justice's founder Scott claims he has had his thumb dislocated, has been spit on, been dragged down the street by a car, and has almost been run over. His colleague has allegedly been bitten, which they caught on camera. (Not all altercations were captured since they don't Facebook Live all of their confrontations.)
It's unsurprising and certainly not unprecedented for legions of viewers to gravitate toward the public shaming of sexual predators. To Catch a Predator, the Dateline NBC show that ran from 2004 through 2007, at one point had a higher rating than its network counterpart The Office while matching The Apprentice. The show centered on sting operations around the country in which adults posing as underage teens would invite men over to engage in sexual activities. The men would instead be confronted at a fake house by NBC News correspondent Chris Hansen, who would interview them before they were arrested by the cops waiting outside. The entire confrontation was captured on camera for the show's millions of dedicated viewers.
"The fanbase is loyal for a few reasons," Hansen told the Marshall Project last year, describing the fanbase, which continues to grow as MSNBC runs old episodes. "One, who doesn't want to go after child predators? Two, it's compelling television. Three, it takes you into a world you wouldn't normally see."

But despite a loyal fanbase and a healthy viewership, the show went off the air after a few years, which can be attributed in part to costly production and criticisms of questionable ethics. (NBC did not respond to our requests for comment.) Each sting costs "tens of thousands of dollars," according to the New York Times, because the network had to pay for hidden cameras and mics. Former Dateline employee Marsha Bartel filed a wrongful dismissal lawsuit against the show in May 2007, claiming at the time that Dateline "pays or otherwise reimburses law enforcement officials, trades its video services for information and for dramatically staged arrests, and illegally provides video feeds to prosecutors," according to SF Gate. Hansen, however, had previously characterized the network's relationship with law enforcement as "parallel investigations."
"This is another example of how what seems like a good idea in theory falls apart in practice," Poynter reported in 2007, criticizing the show for failing to exhibit ethical journalism and establish an independent relationship from law enforcement. "It's no longer a parallel investigation when the cops are basing their decisions to call in the SWAT team on the observations of the journalists."
And aside from negative press, advertisers also began to express a distaste for having their names attached to the show, concerned with its shady subject matter. "We're all concerned with what content we're associating ourselves with," Andy Donchin, an executive for a multinational media and digital marketing communications company, told the New York Times in 2007.
In November 2006, one of the show's sting operations made headlines after resulting in a death. Prosecutor Louis Conradt Jr. in Texas shot himself in the head after police tried to arrest him at his home following a sting operation. Conradt, 56, solicited sex from what he believed was a 13-year-old boy on AOL instant messenger. A film crew from To Catch a Predator had reportedly been waiting outside of Conradt's home to film the arrest when he shot himself.
A similar fatality recently occurred in the online vigilante world. Pedophile hunting group Soul Survivors aggressively confronted 47-year-old Nigel Sherratt earlier this month in a sting operation. The group had posed as a 14-year-old girl on Facebook Messenger, allegedly exchanging sexually explicit messages with Sherratt. When he showed up to meet what he believed to be the underage girl, the members confronted him with the chat logs, livestreaming the incident to their Facebook page which ended in Sherratt being taken away in a cop car. Two days after the incident, Sherratt was found dead in his home.
"Staffordshire Police were called to a house on Ascot Drive, Cannock at around 1:40pm on Sunday 5 August where sadly the body of a man was found," the police department told Gizmodo in a statement. "We are not treating the death as suspicious at this time. The death has been referred to the Independent Office for Police Conduct due to previous contact between police and the deceased."
When Gizmodo reached out to Soul Survivors to comment on a recent sting operation, they responded: "No thank you goodbye ... don't message my page again."
It's hard not to draw comparisons between To Catch a Predator and these vigilante Facebook groups—both employ similar formulas to lure in a devoted audience from decoys to a televised ambush. And of course it all centers on the confronter's stated mission: to expose and catch child sex offenders, predators seemingly impossible to sympathize with. But these vigilante groups don't face the same complications that sent To Catch a Predator into its untimely grave.

For starters, they don't rely on media buyers to stay afloat—while these self-professed pedophile hunters aren't making any money, that's not what they're admittedly in it for. And costs to run their operations are far less exorbitant than that of NBC's budget. While Uber rides to sting operations, mobile printers, and decoy phones might rack up some incremental costs, they are far from shelling out thousands of dollars to stream confrontations to their audiences. It's evident the demand for this type of content is there, unpalatable practices aside. To Catch a Predator didn't end its run because people didn't find it captivating—it ended because press and the people with money found it unsavory. But as long as these vigilantes aren't breaking Facebook's Terms of Service, they have a totally free platform to broadcast their operations.
It's unclear whether the cops are prepared for this new generation of pedophile hunters, ones that view the growing ecosystem of the internet as their arsenal to out predators, leveraging a litany of dating and messaging apps, livestream tools, and online communities. And it's increasingly unclear if this trend will see an unexpected demise like its televised predecessor, or if it will evolve into a beast law enforcement officials and tech platforms find impossible to tame.