We hope a crazy rumor about The Avengers' villain is true. There are also bitchin Predators posters, and clips from Doctor Who, Fringe and Lost. Learn Chloe's Smallville fate! Plus Supernatural, Twilight, True Blood, Ashes To Ashes and Warehouse 13.

Predators:
Three new posters will hunt you down and bombard you with awesomeness. [ShockTillYouDrop]


The Avengers:
Okay, so this is very much still in the "rumor" category for now, so maximum truckloads of salt are indicated. However, Marvel Freshman (who blogs over at Comic Book Movie) was tweeting last night that he'd heard from a fairly reliable tipster about which threat Marvel's biggest super-team might be facing: a Skrull invasion. (And the Hulk gets brainwashed as well.) If this is true, I'm elated, because this big team-up movie needs a huge threat, not just Loki or the Hulk. So fingers crossed.
G/O Media may get a commission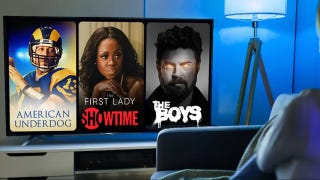 UNDER $1
99¢ Prime Video Channels
And there's a wrinkle. Remember those reports that Kevin Pennington will be playing a well-known Marvel hero, who's not a SHIELD agent in the comics but will be one in the movie? Well, another fan, Paul Filipponi, claims on Twitter that the character played by Pennington is actually an alien — and we could see the beginnings of the Kree-Skrull war in this movie. Hmm... which Kree superheroes might be available to join SHIELD and help fight the Skrull? Like I said, purely rumors for now. But maybe if we all get excited about them, Marvel will make them come true? [Twitter]
Doctor Who:
Speaking of not believing rumors — that report from the other day? About Joanna Page playing a long lost relative of the Doctor next year? Page has denied it. [Digital Spy]
A review of "The Hungry Earth" has some new spoilers. It's the year 2020, and a drill station has been set up to explore the blue grass growing in a valley. The Doctor says, "Behold, Rio!" But Amy isn't impressed, because they're standing in a dreary Welsh graveyard and she's dressed for Rio, in microshorts. The Doctor tries to recover by pointing out that Rio doesn't have a "great big mining thing," like this graveyard does.
Rory isn't convinced there's a dark force at work, but as a kid named Mo points out, "Whenever you've eliminated the impossible, whatever remains, however improbable must be the truth … the graves around here eat people." Someone has been using the far-future science of bio-programming to reprogram the Earth, and they're on their way. And one of your favorite characters may be lost forever. The Doctor issues a rallying cry, "While I'm gone, you four people, in this church, in this corner of planet earth, you have to be the best of humanity, you are decent, brilliant people, nobody dies today, understand?" [Beehive City via Life The Universe And Combom]
And here are three new clips from the episode. [DoctorWhoTV]

The season finale will have the ominous title of "The Big Bang." [BlogtorWho]
Fringe:
Three absolutely shattering clips from the season finale. [Fringe Latino]

Plus some interviews and a few more glimpses:

Supernatural:
That interview the other day, where Jensen Ackles said the show was going to jump forward a few years and show us a Dean who's struggling to adapt to "normal" life? Apparently that was just what Ackles would like to see happen, not actually what the writers have decided will happen. [EW]
Ashes To Ashes:
What makes for a great ending? Show creator Matthew Graham has a theory, now that the final episode is airing:
The thing is that you should be able to guess. When you get to the end, you should be able to say 'oh yes'. It's not an out-of-nowhere thing, because I think that would be a cheat.
Smallville:
This show will be back for one more season, but Allison Mack won't be returning as Chloe full time. The good news is, though, that she'll appear in a few episodes to tie up Chloe's storyline. [EW]
Warehouse 13:
Tia Carrere guest stars in some episodes playing an old flame of Pete's, but it's not a "three's a crowd" situation with Myka or anything. "I am helpful to a case they're working on," Carrere explains. (Cue commenters explaining that Carrere is also helpful to a case they're working on.) [EW]
True Blood:
Here's another awesome poster for the new season. [Fancast]


The Twilight Saga: Eclipse:
Here's a new Imax poster. [CinemaBlend]


Lost:
Something very bad, or very sad, or maybe very gay, happens at the big concert where everybody is gathering in the "flash-sideways" universe. (He just says it's something *a*. Any other suggestions? Something very fab?) [EW]
Scotty Caldwell, who plays Rose, seems surprised to hear there are deaths towards the end of the series — almost as if those deaths don't count, thanks to the alt universe. And she says the characters "get what we gave," whatever that means, and are taken care of in the end. Nestor Carbonell adds that "The whole finale is all about everyone's resolutions." Which character gets the best ending? They all do, says Sonya Walger. Adds Michael Emerson:
All vanity aside, I love the way Ben ends. It's true to his entire, ambiguous arc. He sort of ends and he sort of doesn't end.
And apparently it's really true that the producers shot more than one ending — so keep your eyes on Jimmy Kimmel afterwards, I guess. And also, the DVD set will contain 20 minutes of additional story — not deleted scenes or whatnot, but 20 more minutes of story. [TV Guide Magazine]
There are a couple of new clips from the finale, including one which overlaps with those leaked script pages from a while back. Just in case there was still any doubt as to their authenticity.

Additional reporting by Kelly Faircloth.