Sense8, the mysterious new show from the Wachowskis and J. Michael Straczynski, goes up tomorrow on Netflix. We've seen the first three episodes... and we're still not sure what the show is about. No real spoilers here, because we would have to understand what's going on to spoil anything.
Sense8 is an ambitious project, one which desperately wants to be described as "cerebral." The story, to the degree that I picked it up, centers on eight very different people from all over the globe whose only shared trait is that they're all appropriately attractive for television. Suddenly, these strangers share a quasi-religious vision of a white-clad Daryl Hannah on a drug den mattress looking awfully distressed. This vision somehow results in these eight becoming psychically linked. Eventually, they are able to share each other's experiences... I think?
Let's be real, you could learn all that from the trailer.
Why did sad Daryl Hannah link these eight people? And why is Sayid there? (In Sense8, Naveen Andrews' character is named Jonas, but I'm probably gonna keep calling him Sayid.) Who's that guy with the beard? I watched over three hours of the show and I have no idea.
But! I want to know! And if I'd been able to watch the entire season—all twelve episodes will be available on Netflix tomorrow—I probably would have, and I think I might have liked the whole thing. Sense8 is an example of a show that quite simply could not exist before Netflix. It is designed in every way to be binge-watched, as evidenced by how disorienting the slow pace of the storytelling is at the beginning. Lord knows, no one would have the patience to watch this show weekly.

G/O Media may get a commission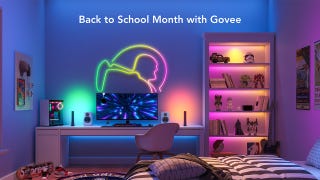 Back to School
Back to School Month with Govee Sale
Those opening episodes have a lot of ground to cover. Each of these eight linked strangers needs to be given not only personality quirks, but a backstory, relationships, et cetera. In other words, they need to be characters. And that takes time! A lot of time.
There's Riley, an Icelandic drug-lovin' DJ living in London; Will, a police officer in Chicago; there's Sun, a banker, I think, who lives in Seoul and is also some kind of marital arts phenom; a guy called Capheus who drives a Jean Claude Van Damme-themed bus in Kenya; Wolfgang, a thief; then there's Nomi, a transgender lesbian living in San Francisco with a mysterious criminal past; also Lito, a closeted gay Mexican actor; and Kala, an Indian scientist, who's betrothed to her boss. Oh and also Daryl Hannah. Whew. They're all haunted by Sayid, who in turn is hunted by some bearded guy who was angry with Daryl Hannah at the beginning. Seriously. That's all the information I have.
It's not entirely surprising that the first three episodes are devoted to introducing this army of characters, with the first hints of their shared psychic lives just beginning to surface. (Will and Riley, who thinks she's tripping, see each other in reflections; Sun and Capheus kick ass "together," or as one person, or something.) But I have to say, it's pretty unsatisfying, if not frustrating, to be a quarter of the way into the show, and still not know what the through-line is. Adding fewer main characters might have solved this problem! If this were a book, I certainly would have stopped reading by now.
That said, the acting is, for the most part, really quite good. I do wish the producers had let the non-American actors speak their native languages—Bae Doona, who plays Sun, has a distracting lack of confidence in her English skills. Moreover, the diversity of character is compelling, even if it feels like the writers play favorites. Nomi Marks, (who, like Lana Wachowski, is white, transgender and tech-obsessed), has nearly twice the screentime as Capheus.
Should you watch the whole thing? I probably will. Because damn. Those shared-experience sex scenes are gonna be wild.