Yummrs: Yummrs connects to your favorite cooking blogs, and manages them by presenting the delicious foods you'll want to make front and center. You can organize the recipes you like into an infinite number of recipe books that you can access with just a tap. After all that, you can then share those recipes with friends via Facebook, Twitter, and Yummrs' own social network. $4
---
The Waste Land: If you like TS Eliot's poetic megaton The Waste Land, you will almost certainly want this app. It includes, of course, the full text of the poem (easily navigable), a variety of audio readings (including two by Eliot himself, and one by Viggo Mortensen!), plus a video rendition. You can swap between readers on the fly, should you want The Burial of the Dead by Viggo and half of A Game of Chess read to you by Eliot. A little confused by the extraordinarily rich work? The app packs explanatory notes to help decipher, and over 35 video commentaries. $14
---
G/O Media may get a commission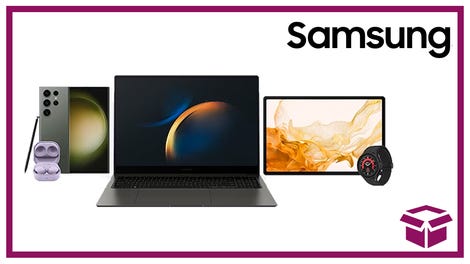 24 hour deals
Discover Samsung - Daily Deal
PopBooth: Like the hipster version of a Passport photo booth, the PopBooth app will take four photos of you goofing off in front of your iPhone or iPad 2 camera, apply filters, then buy printed-out photo-strips to send to your pals. If you don't wish to pay for the photo strips, which will arrive on doorsteps within five days, you can send the images to your social networking profiles or email, for free.
---
Fanhattan: Let's get this straight, Fanhattan is not another movie and TV streaming service. At its core, Fanhattan is a movie and TV searching service that scours through Netflix, iTunes, Hulu Plus and the iPad's ABC app (with hopes of adding more services) and shows you where you can find the movie to watch. Once you click on the service, it'll launch that particular iPad app and that app will let you stream, buy, or rent the movie. Think of it as a guide for your iPad movie watching self.
---
Adobe Photoshop Apps: Adobe recently released three touch-friendly imaging apps for the iPad including Adobe Eazel, Adobe Color Lava and Adobe Nav. One month after their debut, the trio have been updated with a handful of new features and a surprising price drop. The apps were already reasonably priced when they launched, but now they can be had for $3 or less.
---