In Starfish, a woman wakes up after her friend's funeral to find the world is ending. She may be able to save it if she can find the mix tapes the dead friend hid for her all across town. It's a high-concept idea complete with monsters and animation, but really, it's not about any of that.
[Ed's Note: there's a rather NSFW gory image from the film after the next three paragraphs in this piece. - Jill]
With Starfish, director Al White has higher goals than an unlikely post-apocalyptic scavenger hunt. He wants to talk about grief and loss. About healing and regret. And what better way to make that accessible and interesting than by showing a woman alone in the world with only the power of music to save her?
You'll try to make sense of the narrative in Starfish to figure out the mystery behind this girl, her friend, and the sudden apocalypse. And the film obliges by giving us breadcrumbs in the form of some very complex exposition about a mysterious signal that caused it all. However, Aubrey (Virginia Gardner of Runaways) quickly decides to tune it all out and disassociate from the world. At that point, we must do the same with the narrative.
G/O Media may get a commission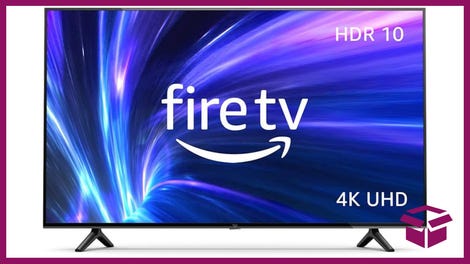 42% Off
Amazon Fire TV 50" 4K Smart TV
We have to realize White wants us to become Aubrey, feel what she feels, and see what she sees. And what she feels and sees don't always make a lot of sense. But, as those sometimes disjointed visuals and emotions layer upon each other, it becomes obvious that making sense of the elaborate narrative isn't really possible. Instead, it's about viewing the film as a metaphor for healing—piecing yourself back together after the loss of a loved one. In this case, maybe saving the world is really about saving yourself.
White punctuates his story with all kinds of interesting touches. The music on the tapes, of course, plays a key role, as do the hometown locations, snowy settings, terrifying creatures that populate the movie, and much more. It's rare that there's not a full meal on the screen for the viewer to digest—and while it doesn't all fit together exactly, the connections are lucid enough to work in a sad, emotional, dreamlike way. So even when the narrative doesn't make sense, something about it always just feels right.
As Aubrey, Gardner is captivating from start to finish. Starfish is basically her solo show; she acts opposite no one (except a pet turtle) for the majority of the film. Yet she's emotional and funny, and she conveys the wildly mixed emotions losing a close friend would entail. White's direction is also top-notch, especially when you realize this is his feature film debut. His choices are confident and bold. His intentions are somehow obvious, even when they're not. Together that gives Starfish a strong cohesion and tone that make it sing.
If you like movies that force you to think about what's happening instead of explaining everything, Starfish is for you. Narratively, it's a bit of a mixed bag, but when you look at the big picture, it works perfectly. It's a beautiful, emotional, weird, and fascinating movie.
Starfish had its world premiere at Fantastic Fest 2018; it does not yet have a U.S. release date.