Oh, you might think that the characters of The Big Bang Theory are bad, but they have nothing on Evan Dorkin's Eltingville Club, a group of the most awful, evil and terrifyingly accurate depictions of nerd-dom's dark side. Plus Justice League Canada, the end of The Walking Dead's war, and more!
---
New Issues
Dark Horse:
• Eltingville Club #1: The Eltingville Comic Book, Science-Fiction, Fantasy, Horror, and Role-Playing Club finally disbands in the most unpleasant way possible. From Milk & Cheese creator Evan Dorkin.
• Conan the Avenger #1: Robbed while drinking away his troubles in Shumballa, Conan hunts the thief but discovers supernatural trouble as well.
• Other releases: Buffy the Vampire Slayer: Season 10 #2, , Halo: Escalation #5, Mass Effect: Foundation #10, The Massive #22, Mind MGMT #21, Star Wars: Legacy II #14, Tome Raider #3, Witcher #2.
G/O Media may get a commission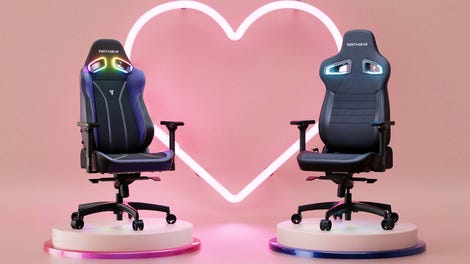 Up to $150 off
Vertagear Gaming Chairs
DC:
• Justice League United #0: Adam Strange knowingly unites Supergirl, Hawkman, Green Arrow, Stargirl, Martian Manhunter and Animal Man to form Justice League Canada.
• Secret Origins #1: Finally, DC takes the time to explore the mysterious origin of Superman.
• Other releases: All Star Western #30, Aquaman #30, Batman Eternal #3, Batman/Superman #9, Catwoman #30, Dead Boy Detectives #5, The Flash #30, Justice League Dark #30, Larfleeze #10, Red Lanterns #30, Superman #30, Teen Titans #30, Teen Titans Go #3.
IDW:
• Danger Girl: Mayday #1: The Danger Girls' deadliest, sexiest foe returns.
• 24 #1: The adventures of Jack Bauer after the series ended but before the upcoming TV movie Live Another Day.
• 7th Sword #1: A mercenary samurai defends a town from an evil warlord and his army of robots.
• Other releases: City: The Mind in the Machine #3, GI Joe: A Real American Hero #201, Godzilla: Rulers of the Earth #11, Popeye Classics #21, Rogue Trooper #3, Star Trek #32, TMNT: New Animated Adventures #10, TMNT #33, Transformers: Robots in Disguise #28.
Image:
• The Walking Dead #12: The All-Out War saga concludes.
• Lazarus #8: "Four Forever calls on the Daggers. The Barrets reach the final stage of their journey as all threads converge on Denver for the Lift." I don't know what this means.\
• Other releases: Dead Body road #5, Five Ghosts #11, Fuse #3, Ghosted #9, Manhattan Projects #20, Mice Templar IV: Legend #9, Protectors Inc. #6, Saviors #4, Sheltered #8, Shotgun Wedding #4, Skullkickers #26, Sovereign #2, Thief of Thieves #20, Undertow #3, Zero #7.
Marvel:
• Original Sin #0: The mysterious Watcher watches something he wasn't supposed to in this prologue to Marvel's summer event.
• Elektra #1: Nothing about the official summary makes any sense, so I have no idea what happens other than Elektra comes back.
• All New Invaders #4: Captain America, Namor and the Human Torch battle the god of the Kree on his home turf.
• Other releases: Avengers Undercover #3, Daredevil #2, Dexter Diown Under #3, Fantastic Four #3, George Romero's Empire of the Dead: Act One #4, Guardians of the Galaxy #14, Iron Patriot #2, Powers Bureau #9, Savage Wolverine #17, The Superior Spider-Man Team-Up #12, Thunderbolts #25, Uncanny Avengers #19, What If? Age of Ultron #4.
Other:
• Vamplets: Undead Pet Society #1: The designer and illustrator of My Little Pony asks… "What if the ponies were all dead?"
• Other releases: All New Soulfire #4, Ash and the Army of Darkness #6, Bo Plushy Gangsta #2, Bravest Warriors #19, Bunker #3, Crossed Annual 2014, Crossed Badlands #52, Duffman Adventures #1, Eternal Warrior #8, Evil Empire #2, Fathom: Kiana #2, Fracture #4, Game of Thrones #20, GFT: Code Red #5, GFT: Helsing #1, GFT: Wonderland #22, Gravel: Combat Magician #3, Hacktivist #4, Harbinger #22, Herobear and the Kid: Saving Time #1, Jack Hammer #3, Lady Rawhide #5, Letter 44 #6, The Midas Flesh #5, Peanuts #17, Regular Show #12, Robotech/Voltron #3, The Shadow Now #6, Sherlock Holmes: Moriarty Lives #3, Thaniel #2, Uber #11, Warlord of Mars #35.
---
Trade Paperbacks and Hardcovers
Dark Horse:
• Someplace Strange: Two brothers enter a realm where their imagination is real in order to kill the bogeyman.
• Other releases: Bride of the Water God Vol. 15, EC Archives: Weird Fantasy Vol. 1, Gantz Vol. 31, Star Wars Omnibus: Knights of the Old Republic Vol. 3.
DC:
• Deadman Vol. 5: An assorted collection of Deadman tales from the '80s.
• Other releases: The Books of Magic, Green Lantern Vol. 4: Dark Days.
IDW:
• Princess of Mars: Illustrated Prose Edition: The first adventure of Edgar Rice Burrough's John Carter, illustrated by the amazing Michael Kaluta.
• The X-Files Season 10 Vol. 2: While someone tries to shut the X-Files division down, a monster from their past separates Mulder and Scully.
• Other releases: Dungeons & Dragons: Forgotten Realms Omnibus Vol. 1, Magic: The Gathering Vol. 4: Theros, The Rocketeer/The Spirit: Pulp Friction, Samurai Jack Classics Vol. 2, TMNT Adventures Vol. 7.
Image:
• Distant Soil Vol. 2: The Ascendant.
Marvel:
• Brilliant Vol. 1: Five college geniuses try to create real-life superpowers in this miniseries from Brian Michael Bendis and Mark Bagley.
• Other releases: Marvel MasterWorks: Amazing Spider-Man Vol. 16, Savage Wolverine Vol. 1: Kill Island, Secret Avengers Vol. 3: How to Maim a Mockingbird, Thor by Walter Simonson Vol. 5, X-Men Legacy Vol. 4: For We Are Many.
Other:
• Animal Land Vol. 9, Bunny Drop Vol. 10, Flowers of Evil Vol. 9, Garth Ennis' Battlefields Vol. 3, Ghost Town, I'm Not Popular Vol. 3, Inu X Boku Vol. 3, Judge Dredd: The Complete Case Files Vol. 2, Over Easy, Planet of the Apes: Cataclysm Vol. 3, Skyward Vol. 2: Strange Creatures, Steed and Mrs. Peel Vol. 3, Street Fighter Classic Vol. 3: Psycho Crusher, Umineko: when They Cry Vol. 6, Vampirella Archives Vol. 9.
---
As usual, here's the list of everything being released to comic stores tomorrow, and you can find your nearest comic retailer here.