This monkey is insanely cute and lovable — and endangered. This is a young golden snub-nosed monkey, high up in China's Qinling Mountains, keeping its extremities as warm as possible, while its mother isn't around. Poor lonely monkey. But that's not the most distressing of the year's best wildlife photos, from the Veolia Environnement Wildlife Photographer of the Year competition.
The most distressing photo is the one which actually won the contest:

Yes, these are brown pelicans smeared with oil from the Deepwater Horizon spill, part of photographer Daniel Beltra's portfolio, called "The Price of Oil." These birds are sitting in a box, at a rescue facility in Fort Jackson, Louisiana. In the photo, they've just gone through the first stage of cleaning off the crude oil, which involves spraying them with a lighter oil to break up the heavier crude that's trapped in their feathers. The resulting heavy, foul-smelling residue dripped from the birds onto a white sheet. Beltra told the BBC, "The problem with birds is that as soon as they get dirty, they try to clean themselves, which means they swallow a lot of oil. By November 2010, I think they had recovered over 6,000 dead birds."
Here are a couple of the other winners, which are less depressing although they also show how fragile and beautiful the natural world is, and how much we need to protect it.
G/O Media may get a commission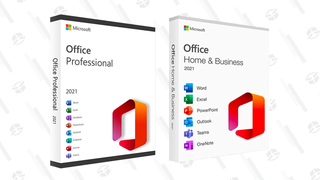 89% off
Microsoft Office Professional 2021 Lifetime License
A salmon's-eye view of a swimming bear in Katmai National Park, Alaska. Photographer Paul Souders submerged his camera on a ballasted tripod and set up a radio-controlled remote trigger. He waited for four days for this shot of a deft and powerful female.

Romance between yellow-sac spiders, photographed by Dmitry Monastyrskiy. The spiders were racing around the seedheads in a meadow just outside the city of Rostov-on-Don, Russia, stopping only briefly to touch their legs together.
Two American oystercatchers in Long Island, NY. Young wildlife photographer of the year, Mateusz Piesiak, from Poland had to crawl along wet sand to capture this image of the two oystercatchers. Whenever the young bird saw an adult with a bite of food, "it would run over with loud, begging 'queep queep' cries and try to snatch it from them."
Check out more photos and details over at the BBC. [BBC News]