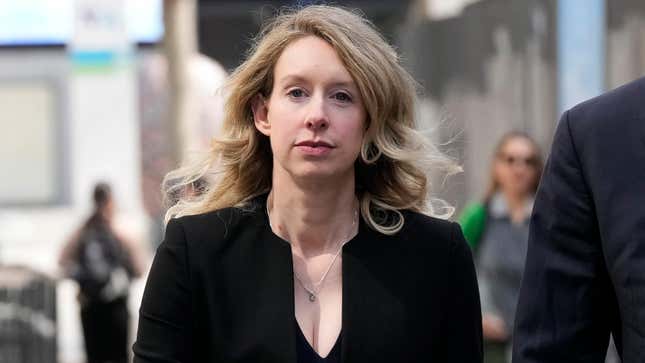 Theranos co-found Elizabeth Holmes surrendered to the Bureau of Prisons just before 2 p.m. on Tuesday to serve her 11-year sentence for defrauding investors. The Bureau, which had the final say on where Holmes would serve her sentence, agreed with the U.S. District Court in Northern California's recommendation that she serve out her prison sentence at the minimum-security all-female federal prison camp in Bryan, Texas.
NPR Is Going Dark on Twitter | Future Tech
"We can confirm Elizabeth Holmes has arrived at the Federal Prison Camp (FPC) Bryan in Bryan, Texas, and is in the custody of the Federal Bureau of Prisons," a spokesperson for the Bureau of Prisons told CNN. The prison is located 95 miles northwest of Houston, where Holmes grew up, extends for about 37 acres, and houses about 650 women.
The women who are considered eligible to work are assigned jobs in food service roles and factory employment, earning between 12 cents and $1.15 an hour. Holmes' former boyfriend and Theranos COO Ramesh "Sunny" Balwani was also convicted of fraud and was sentenced to 13 years in prison, which he started serving last month.
Holmes founded Theranos, the blood testing company, in 2003 that boasted of the ability to identify health issues based on a non-invasive blood test, but The Wall Street Journal discovered and subsequently reported that she had lied to investors and customers about the reliability of the tests.
Since her conviction, Holmes was released on bail and was permitted to reside at her permanent residence in the San Diego area with her partner and father of her two children, William Evans. Holmes gave birth to their eldest child, a son, only a few weeks before her trial began in July 2021, and the they conceived their second child who is now three months old after Holmes was convicted in January of last year.
Holmes and Balwani were simultaneously indicted five years ago on 12 criminal charges surrounding wire fraud after it was revealed that Theranos tests weren't often accurate and resulted in misdiagnosed health issues for hundreds of patients. Holmes was charged and convicted by a jury in federal court of wire fraud and conspiracy to commit wire fraud and settled a separate civil securities-fraud charge with the Securities and Exchange Commission (SEC) in January 2022. Holmes paid the SEC a $500,000 fine and received a 10-year ban from being an officer or director of any public company.
Holmes was sentenced in November and told the court Theranos was "my life's work," adding, "I gave everything I had to build our company and to save our company. I regret my failings with every cell in my body."