CEO Elizabeth Holmes and former president Ramesh "Sunny" Balwani of the disgraced blood-testing startup Theranos have been charged with "massive" fraud, according to the Securities Exchange Commission, and have agreed to resolve the charges.
Complaints cited by the SEC allege that Theranos and its principals raised over $700 million "through an elaborate, years-long fraud in which they exaggerated or made false statements about the company's technology, business, and financial performance." That includes the core product Theranos had claimed to be developing—a portable analyzer that could make accurate assessments of a patient's health with a few drops of blood drawn from a finger—as well as claims the analyzer had already been deployed by the Department of Defense in Afghanistan.
Theranos was able to court some deep-pocketed investors (Rupert Murdoch among them) and powerful board members (which included former Secretary of State Henry Kissinger and current Trump-appointed Secretary of Defense Gen. James Mattis) as it rocketed towards a valuation of $9 billion. A truly portable device that could handle multiple blood tests would have been a medical breakthrough, and CEO Holmes—in the trappings of a biotech Steve Jobs—helped sell an idea that otherwise might have seemed too good to be true.
The fantastical promises of Theranos came crashing down in late 2015, when a series of reports from the Wall Street Journal revealed the company couldn't deliver on the tech it claimed to have created. Over the ensuing years, Theranos fired hundreds of employees and shuttered its facilities, and Holmes was banned from operating a laboratory. The company and its founder were accused of running fake tests and were eventually sued by investors who felt rightly duped.
Holmes attempted to bail out her sinking ship by promising investors worthless stock to stave off further suits, and miraculously secured a $100 million loan this past December. But Theranos remains in shambles, and no amount of backroom dealing has helped the company avoid its fate.
G/O Media may get a commission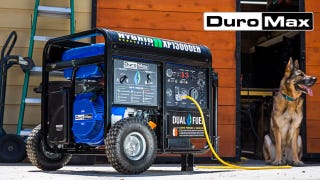 Black Friday Sale
DuroMax Generator Sale
Holmes agreed to pay a $500,000 penalty and won't be able to serve as an officer or director of a public company for 10 years. She further agreed to reduce her equity and relinquish 18.9 million shares in the company she started in 2003. Holmes will no longer have majority voting control over the company.