The hammer has finally dropped on blood-testing startup Theranos and its beleaguered CEO Elizabeth Holmes. US federal health regulators have announced their decision to ban Holmes from operating a lab for two years, while withdrawing regulatory approval for its California lab.
In a statement issued late Thursday, Theranos announced that it had received notice from the US Centers for Medicare and Medicaid Services (CMS) that it is facing severe sanctions. In addition to the Holmes lab ban, the feds have revoked the company's California lab license, issued an unspecified monetary penalty, and announced that Theranos will no longer receive Medicare and Medicaid payments for all lab services. The company was also given a list of corrective measures. It's a huge setback for the biotech firm, once heralded as the future of the industry.
Theranos came under intense scrutiny last October following a scathing report in the Wall Street Journal questioning the company's claim that it could perform a slew of blood tests using just a few drops of blood, while also citing deficiencies in its laboratory practices. Earlier this year, the CMS told the startup that its California facility posed "immediate jeopardy to patient safety," and that it needed to get its act together. Theranos was unable to remedy the problems, resulting in the sanctions.
"We accept full responsibility for the issues at our laboratory in Newark, California, and have already worked to undertake comprehensive remedial actions," declared Holmes in response to the CMS sanctions in a statement. "Those actions include shutting down and subsequently rebuilding the Newark lab from the ground up, rebuilding quality systems, adding highly experienced leadership, personnel and experts, and implementing enhanced quality and training procedures." Holmes said she was disappointed by the sanctions, but stated that her company is "committed to fully resolving all outstanding issues with CMS and to demonstrating our dedication to the highest standards of quality and compliance."

G/O Media may get a commission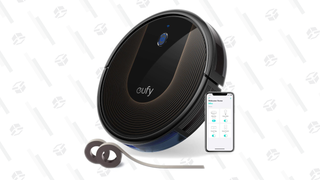 48% Off
Eufy BoostIQ RoboVac
Theranos certainly has work to do. In addition to attending to the CMS list of corrections, it'll have the weather the storm of a criminal investigation, and somehow find a way to woo back partners and investors. Last month, Walgreens finally severed ties with Theranos, removing a critical service delivery channel for the biotech firm.
As for company founder Elizabeth Holmes, she now faces the daunting task of having to rebuild herself from the ground up, both financially and professionally. Once valued at $4.5 billion, she's apparently now worth nothing. Holmes may find a way to salvage Theranos and her career, but re-building trust and credibility may ultimately prove to be the more challenging task.