The blood-testing company Theranos has been at the receiving end of biting criticism for months now. But it seems things have finally come to a head: A new report claims that the company is under criminal investigation by federal prosecutors.
The Wall Street Journal reports that "people familiar with the matter" say the company is being investigated over allegations that it "misled investors about the state of its technology and operations."
The report claims that Walgreens Boots Alliance—an early supporter of the Theranos tests, though it stopped offering them earlier this year—has received a subpoena for information that will assist the investigation. In particular, the sources claim, the subpoenas seeks to discover exactly how the company described its technologies, abilities and progress.
It's claimed a similar subpoena has also been issued to the New York State Department of Health, because it received an application from Thernaos for a laboratory license. Investigators are also claimed to be studying whether or not the company misled government officials too, because that could be a federal crime itself.
All these investigations are said to be "at an early stage." In a statement issued to the Journal, Theranos explained that it "continues to work closely with regulators and is cooperating fully with all investigations."
G/O Media may get a commission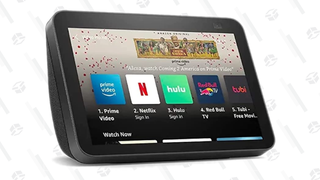 Theranos came under intense media scrutiny back in October 2015, which spurred U.S. health regulators to investigate complaints about the company's lab and research practices late last year. Last week, it was reported that Theranos CEO Elizabeth Holmes may face a two-year ban from the industry following pressure from Centers for Medicare and Medicaid Services.
It remains to be seen how the investigations will play out. But with so many companies and government agency's expressing concern over the claims, promises and practices of Theranos, it looks like the company could be in for a very bumpy ride indeed.
[WSJ]