Yeah, I know it's not pronounced that way. But it was either this or "It's the Desolation of This Week's DVD and Blu-ray releases!" and I thought this was the less awful of the two options.
• The Hobbit: The Desolation of Smaug
I don't believe there's any weird distribution or exclusion of extras, so buy whatever version you want; the only thing special about the limited edition is that it comes with Erebor bookends. Meanwhile, I still can't believe this thing is going to have an Extended Edition later.
G/O Media may get a commission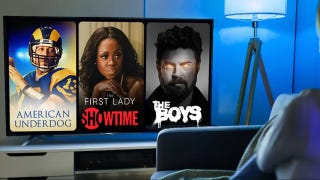 UNDER $1
99¢ Prime Video Channels
• Paranormal Activity: The Marked Ones
Same chills, new characters. Do you think if the filmmakers knew they were creating a franchise that could churn out sequels they'd have named the first movie something better than Paranormal Activity?
The "Lifetime Original Movie" starring Christina Ricci as the infamous serial killer.
A very strange 1968 movie about a secret American strike force racing to find a crashed UFO in China before Russian troops get to it.
"After giving birth to a zombie baby, Momoko has lost her sanity, and is being worshipped as a modern-age Virgin Mary in the Akiba Empire. Her friend Kanae, a nurse, is trying desperately to find the way to rescue her friend… A tribute to zombie movie master George A. Romero!" I have my doubts about this.
Classic anti-social nerd battles new hipster nerd for the soul of their gaming group. Saving throws are not made.