Forget the small, modern snowmobiles with four-stroke engines. They are way less cool than these old monsters, like car-to-snowmobile modifications and sled weapons. Here are some of the greatest snowmobiles ever made.
Antarctic Snow Cruiser (often called "Penguin 1" or "Turtle")
The 55 ft 8 inches (17 m) long vehicle was designed between 1937 and 1939 by a team led by Thomas Poulter for their second expedition with Admiral Byrd in 1939.
G/O Media may get a commission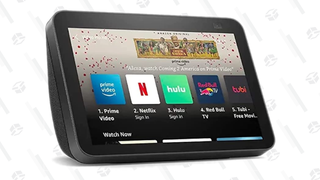 The only way to get it from Chicago to Boston was to drive it across the country with a relaxing 10-13 mph (16-20 km/h) cruising speed. Later the Penguin 1 had some problems in the Antarctic: slip off from a too-narrow bridge and later sank into the snow because of its large, smooth tires and its 30-ton weight. After the crew installed some chains and spare tires, it was able to drive with a very low speed, they've cover 96 miles (154 kms) in 12 months.
The team has just left the Penguin 1, when the expedition returned to the US. Few years later an other expedition found it and made it fully operational, but they've left it somewhere at Little America in the Bay of Whales.
The location of the Antartic Snow Cruiser is now completely unknown.
(via Invisible Theme Park, Thule and Forum Foruma)
KA-30, the "Dream Of The Soviet Youth", 1969
(via English Russia and wreckamovie)
The Soviet Sever-2 (North-2)
It was designed by the Soviet GAZ car factory in 1959, based on the Pobeda car (GAZ—M20). It had an AI-14 aircraft engine, which helped the Sever-2 to reach the cruising speed of 18-20 miles (30-35 kmh) per hour.
(via Avia Restorer, gorod.tomsk.ru and moto.wp.pl)
The armored NKL-26
It was used by the Soviet Union during the WWII. It was made of plywood, had a ten-millimetre armor plate on the front and a 7.62 mm DT Machine gun.
(via Wikimedia Commons and Acemodel)
"Ford on snowshoes" – the Model T Snowmobile
100 years ago a New Hampshire Ford dealer named Virgil D. White has invented the snowmobile, as we know it today. He started to sell conversion kits for Model T Fords (1921 "Mailman's Special" – pictured above.)
1917 Ford T Depot Hack with an 1923 "Snow Flyer" kit
1925 Model T with a "Snow Flyer" kit
(via Smithsonian, Fountainhead Antique Auto Museum and Hemmings)
Interesting concept of a screw-propelled snowmobile: the Fordson Snow Devil
Developed by Armstead Snow Motors in 1924, converted from a Fordson tractor.
Oldschool drifting from 0:59! A modified Chevrolet car is visible after 7:00, it's fitted with the same system.
(via Zetaboards)
Tucker Sno-Cat 743 Double Drive, 1955
Different models with four independently mounted tracks have been used in the Arctica and Antarctic, but the most widely known is the 743. It was used during the Commonwealth Trans Antarctic Expedition in 1955-1958.
(via Strange Vehicles)
A modified Ferguson TAE-20
Five of these were used during the Commonwealth Trans-Antarctic Expedition.
(via if-9.de)
Snowmobile buses by the Canadian tourism company Brewster
(via Just a Car Guy and Wikimedia Commons)
BMW Schneekrad, 1936
These prototype was built in 1939, engineered by a BMW engineer named Riemerschmidt, using a BMW R-12 engine and a Steib TR-500 sidecar.
(via Flesh And Relics)