It seems inevitable that one day your entire home will be wired so that smart assistants can hear your every request, no matter where you are. But if you mostly rely on a smart speaker, its built-in mic can only eavesdrop so far. Companies like Google would certainly love it if you bought a smart speaker for every room in your house, but a better solution is to just make your Google Home portable with a fancy pair of battery pants.
Google's technical term for the swappable accessories that allow you to color-coordinate a Home speaker to your room decor are "interchangeable bases," but I'm not going to pretend they're anything other than fancy speaker pants. You can't get them in denim yet, but it's only a matter of time.
They easily pop on and off the Google Home speaker using a pair of magnets to hold them in place, which Ninety7, the makers of the $50 Loft portable battery base, take advantage of so you can easily let your home assistant, and your music, follow you around the house.

Upgrading your Google Home speaker couldn't be easier. You simply twist and pop off its included base, and then drop the exposed speaker into the Loft which adds about an inch of extra height to the Google Home, and a bit of extra weight, thanks to the batteries inside.
G/O Media may get a commission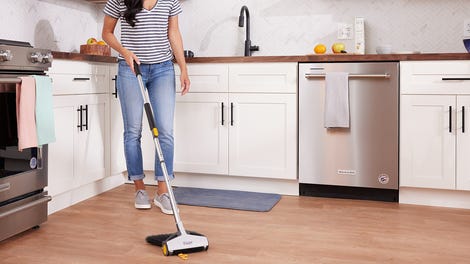 BOGO 50% Off
Flippr - BOGO 50% Off
The Loft also slightly changes the Google Home's aesthetics. It normally features a two-tone color scheme—white on top and gray on the bottom—unless you bought one of Google's colored replacement bases. The Loft I tested featured a black and white design, but silver and white, and copper and white versions are also available, giving the Google Home a tri-tone finish that I'm mostly indifferent towards. I'm also not a person who would every try to color match a smart speaker to a room, but if aesthetics are your priority, be aware that the Loft will alter how your Google Home looks.
Because it's constantly monitoring the sounds in a room, waiting to respond as soon as someone asks a question or makes a request, the Google Home always needs to be plugged in. Where you'd normally attach its cord is where the Loft battery pack delivers power to the Google Home, so when you're plopping the speaker into its new base, you'll need to make sure these connectors are properly aligned. But that's about as tricky as the installation gets.
The Loft duplicates the connector you'll find on the bottom of the Google Home, so to power and charge your speaker and its new battery pants you can just keep using the Home's included power cable and adapter. Convenient, except if you intend for your upgraded Google Home to be your primary portable speaker that you also travel with. Adding the ability to charge from a standard USB-C or microUSB cable would have been more convenient, but as it stands if you choose to travel with your upgraded Google Home, its standard power cable will have to tag along.
Ninety7 promises about eight hours of battery life with the Loft, which is roughly half of what Bluetooth speakers like the UE Boom promise. Both the UE Boom and the Loft weight about the same, meaning they're each packing roughly the same size battery inside. But the fact that the Google Home is connected to wi-fi and constantly processing everything its microphone hears means there's an extra drain on its battery. As a result, the Google Home with the Loft attached can't compete with dedicated Bluetooth speakers when it comes to playtime.
We already know that Google Home is a solid smart speaker, so less-than-stellar battery life aside, how is it as a Bluetooth speaker? Since the Loft arrived for testing, I haven't actually used my UE Boom at all, aside from comparisons, and I'm not sure I'll ever go back. I do think the UE Boom slightly edges out the Google Home when it comes to overall sound quality for music; Google's speaker is a bit on the bass-y side, even with recent app updates that let you tweak a basic EQ. But the convenience of simply being able to ask Google Home to turn on Bluetooth pairing, and having it report back exactly how the speaker will be named in a device's Bluetooth settings, is just fantastic.
I also love being able to make volume adjustments through voice commands ("hey Google, set the volume to 25 percent") and the ability to control track playback from across the room just by asking for the next track. I've been living with a Google Home for a few months now and rarely used it for anything other than checking the weather. But now that I can easily carry it from room to room, it's become far more useful as both a Bluetooth speaker, and a smart assistant.
The UE Boom, and other dedicated Bluetooth speakers are still excellent choices if all you're looking for is a portable stereo with amazing battery life. But despite a few minor tradeoffs, now that my Google Home isn't permanently tethered to a power cord, I can't see myself ever going back to using a 'dumb' Bluetooth speaker ever again.
README
At $50 it's a relatively cheap upgrade for an already great wireless speaker.
Upgrading a Google Home with the Loft is about as easy as hardware upgrades get.
Eight hours of battery life isn't amazing, at least compared to other dedicated Bluetooth speakers on the market.
The sound can be a little on the bass-y side, but Google has recently updated the Google Home companion app with a basic EQ for sound adjustments.
Uses the Google Home's included power adapter for charging, but USB-C would have been far preferred.