There's no better playground for a photographer than a bustling, loud, dynamic city. In the documentary Everybody Street, which just dropped on Vimeo, some of New York's most iconic photogs talk about the challenge and excitement of shooting everyday urban life.
Directed by photographer Cheryl Dunn, Everybody Street interviews marquee names like Joel Meyerowitz, Elliott Erwitt, and Jill Freedman, artists who share an obsession with documenting the city's landscape and people, from graffiti-covered subways to gangs in Brooklyn. Folded in to the sometimes brutally honest conversations are 16mm film clips portraying contemporary NYC in a style mirroring the gritty and diverse photography seen throughout.
It's a treat to watch such talented individuals at work, even for brief moments, as Dunn follows them around. Most of the subjects can be seen carrying Leicas or other 35mm cameras, and there's even some discussion of how the tools you use can affect the pictures you take in unexpected ways. Bruce Davidson, for example, describes how a large format 4 x 5 view camera made for a completely different type of interaction with his subjects than a small rangefinder.
The documentary also touches on the old digital versus film debate, with a decent mix of opinions on how the internet—along with easy access to image-making tools—has altered the photographic landscape. Some of these artists, like Joel Meyerowitz, see the potential of great genius in the way people use cameras today, while Eliott Erwitt sees digital as diluting the art form.
G/O Media may get a commission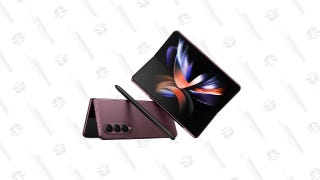 Save Up to $300
Galaxy Z Fold4
Everybody Street is available to rent ($4.99) or buy ($12.99) in Vimeo. It's well worth the cost for a colorful and charismatic perspective on some of the most captivating photography ever. Better still, it makes you want to grab a camera and hit the streets.