Many live-action anime adaptations are objectively terrible, but Robot Underdog's Dragon Ball Z: Light of Hope manages to set itself apart. Not with incredibly high production values or brilliant fight sequences, but with an earnest love and respect for the series that it's based on.
Light of Hope is a 35-minute short film based on the Android Saga, which focuses specifically on the future timeline in which Androids 17 and 18 have razed the world, leaving but a few survivors left. After nearly all of the Z Fighters have fallen, Gohan, Bulma, and her son Trunks toil away day in and out trying to figure out how they might be able to save their world.
In the original series, what little we saw of Trunks' dystopian future always felt un-fleshed out in terms of conveying how desolate a place it was. There were ruins, yes, but Dragon Ball Z's brilliantly-saturated color palette was never really suited to depict desolate wastelands. Light of Hope is true to the story that Future Trunks eventually tells the Z Fighters once he travels into the past to alter his future, but it's infused with a kind of looming dread and hopelessness that the DBZ anime was merely accented with.

In the film, we see Gohan training a young Trunks for a battle that, on some level, they both know they can't win, while Bulma toils away at an experimental time machine that she isn't entirely sure will work. The Androids spend their time murdering what few humans are left living, and considering what they'll do with their lives once they finally exterminate them all.

When the words "Dragon Ball Z" and "live-action" are mentioned together, 2009's widely-panned Dragonball: Evolution comes to mind and might initially turn you off from the idea of a project like Light of Hope, but it shouldn't. The team behind the film obviously has a love for the source material that shines through the screen in those moments clearly inspired by the anime.
G/O Media may get a commission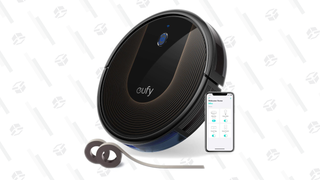 48% Off
Eufy BoostIQ RoboVac
While it suffers from some of the issues that virtually all fan films have, it has more good qualities than flaws, and it definitely has its heart in the right place. Anyone in Hollywood looking to make another live-action Dragon Ball Z film—and after Evolution, there almost certainly isn't—but if there is, they should definitely watch Light of Hope first.